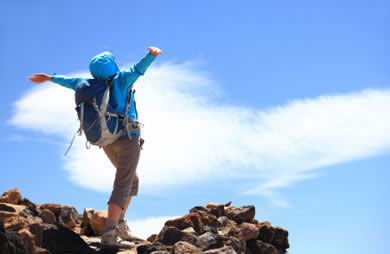 Couldn't all of us use a little motivation from time to time? Recently, one member inspired everyone here at SparkPeople, and we think her story can help you too. Donna (DONNA999) may be several pounds away from her goal, but as a busy mother of two with a demanding job, she's like so many of us—learning from mistakes, making gradual changes, seeing progress and facing pitfalls. We're going to follow her as she uses SparkPeople to reach her goals. Read how her journey began.

From "Donna's Journal," April 27th 2005, 1:00 a.m.

I decided to start a journal today because I had my second "ah ha" moment today, and I've realized I need something to keep me focused on what I have to accomplish. I'm going to be brutally honest with myself.

For the last eight years I've been involved in software implementation projects for my company. This involves long hours at work, most of it sitting in front of a computer. To keep us from leaving the office, the project managers provide lots and lots of food and snacks within easy reach.

Okay, okay, most people realize that lots of sitting and lots of eating adds up to lots of weight. But while I "knew" it had a lot to do with my weight gain, I didn't really "realize" the impact.

The first "ah ha" moment came on the first day I recorded my food intake in the Nutrition Tracker. I remember the date very, very well. March 29th.

I THOUGHT I had been doing well during the day not eating nearly as much as I normally would. After all, I only ate one of the donuts and didn't snack on several additional ones while I worked. I skipped the jars of candy, passed up the cookies and chocolate cake, cut back on my cokes, from three or four to only two. I didn't have a BIG lunch—just ate one of the cheeseburgers provided and only half my fries.

I got home from work and cooked dinner for the boys and helped them with their homework and then watched a little TV to relax. Just before I was going to go to bed I remembered that I planned to log my food for the day. I logged on to SparkPeople and started recording.

The numbers piled up! It was a major shock to see how quickly the calories, fat grams, and carbs added up. I was over the suggested limit by lunch and the numbers kept on coming.

Continued ›
Article created on: 5/18/2005