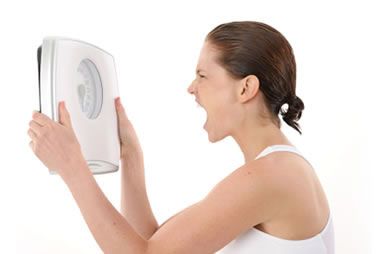 After slowing down to an unexplained stop for the 147th time in the space of 2 miles, I decided that I hated the world. Surrounding me were an ocean of maddening brake lights, rain pelting the windshield and thousands of tons of steel and fiberglass flung around by a clueless pack of selfish morons who obviously didn't know the first thing about driving!!

It was in serious danger of ruining my whole day.

Is there anything more frustrating than being bogged down in traffic? Most all of us have been there before. That discouraged, fed up feeling that just makes us want to throw up our hands in surrender or lay them on the horn.

Thankfully, I stopped muttering helplessly and started thinking instead. And I realized that I often witness another type of "road rage" – the frustration that builds on the road to weight loss: Diet Rage.

Think about your dieting history. Does it give you the same feeling as an exasperating traffic jam? You never quite get where you want to go as fast as you want to get there. You get aggravated, yell (usually at yourself), and see people in other lanes going faster than you (how do they DO that?!), and it usually ends up ruining your day.

Here's the lesson: Getting frustrated with your diet does no more good than getting frustrated in traffic. It just makes you unhappy, unsuccessful and tense.
Continued ›
Article created on: 1/12/2005