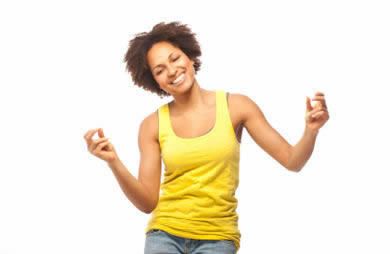 Each of us has a favorite body part – or we should. Do you have an area you think is worth accentuating? If you do, good for you. As you get closer to your fitness/health/weight loss goals, you will likely want to show off more of your body, highlighting your best features:


Thin wrists? Wear some bracelets or bangles to show them off.
Great legs? Wear skirts to highlight those gams.
High collar bones? Get some scoop-neck tops.
Tiny waist? Tuck in that shirt and belt your waist.
Muscular arms and shoulders? Wear tanks or cap-sleeved tops to accentuate them. You can use colors to your advantage, too. The single best use of color for a slimming effect is dressing from top to toe in one dark hue, such as navy, brown or black. Did you ever wonder why school buses are yellow? It's because that color is so eye-catching. Dress up any body part you want to accentuate with brights like yellow, orange or hot pink while wearing dark colors on areas you want to draw the eye from; dark colors recede.

Do you have a nice, long neckline, but are your hips are wider than you'd like them to be? Pair a canary V-neck tee with dark blue jeans.

Proud of your shapely shoulders and lean legs but think you're top heavy? Wear a high-necked black sleeveless shirt to show off your shoulders – while minimizing your chest – with a fuchsia skirt to accentuate your gorgeous legs.

Continued ›
Article created on: 7/14/2004