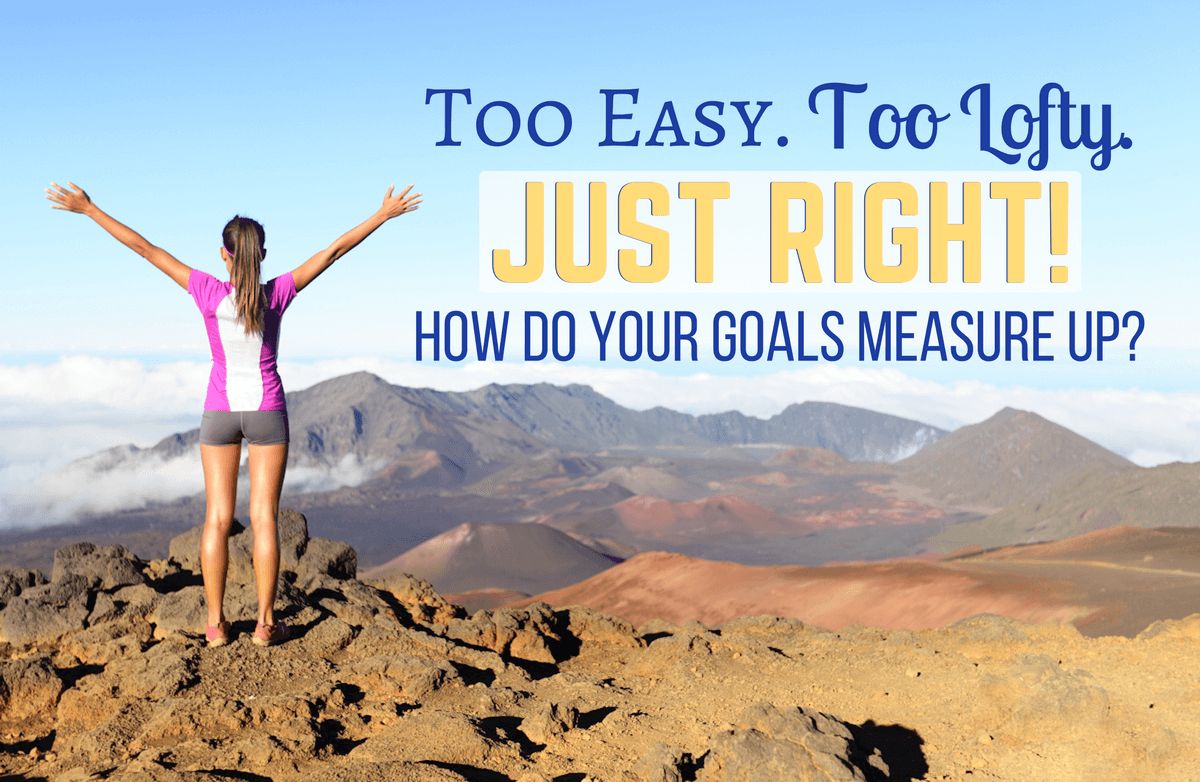 Goals are a lot like Goldilocks. There's a careful balance required to be sure they're not too ambitious and not too easy, but just right. After determining the ultimate goal, breaking that objective down into manageable, progressive mini-goals or steps, then working toward success slowly is the logical path.

Those who study goal-setting theory teach the necessity of setting SMART goals. For those unfamiliar, SMART requires that the goals be five things: specific, measurable, attainable, realistic and timely. It's the difference between saying, "I will exercise more" and "I will go to the gym on Monday, Wednesday and Friday, and walk on the treadmill for 30 minutes."

But why is it that despite setting SMART goals, some people are able to actually adapt healthy habits that support the life they want in order to reach ultimate success, while others struggle to meet the goals each week and ultimately don't transform their permanent behaviors?

I've thought about this question a lot. Is it specific personality traits that might lead to one result or another? Or is it goal setting in one arena rather than another that guarantees greater success? What I've discovered is not a similarity amongst the individual or the topic, but rather a similarity between the type of goals set. That is, how lofty or challenging the goals that are set.

Typically, goals fall into one of three categories: comfort, stretch or stress. When you set a goal that is already within your comfort zone or the current realm of your existing habits, not much transformation will occur. Using the exercise goal above as an example, if you are already averaging three times a week at the gym most of the time, setting this target isn't challenging. It will keep you in maintenance mode, but will not lead to progress.

If, however, your ultimate goal is to become fitter than you currently are so you can run a half marathon six months from now, you are going to need to create some stretch goals. Stretch goals are those that require your participation in activities that initially feel awkward or unfamiliar, but will ultimately result in real change. Here's where you would need to explore setting goals that either have you increasing the duration, frequency or intensity of your workouts. You will need to challenge yourself to work harder, go faster, stay longer. Then, once you've reached those goals consistently, you'll need to challenge yourself again.

On the flip side, if you set goals that are so challenging that you lack confidence in your ability to execute them, they will leave you stressed, frustrated, deflated and defeated. Consider what happens if you've been walking on that treadmill three times a week, and now you set a SMART goal such as "I will run on the treadmill for 45 minutes every day this week." There's a good chance you may not even try. Why would you? You know the chances of sustaining that kind of workout is slim to none, you might hurt yourself or end up sore and miserable. You won't feel excited about working on that goal; you'll just dread it, and chances are you won't succeed.

Setting the Bar Just Right

Finding success lies in understanding the balance between goals that are just slightly out of your comfort zone, yet rise the bar just above your expectations. Lean too far one way or the other and you'll find yourself either frustrated and lacking the confidence to complete your goals, or spending your time and energy never moving from the starting block.

Continued ›
Article created on: 11/30/2016