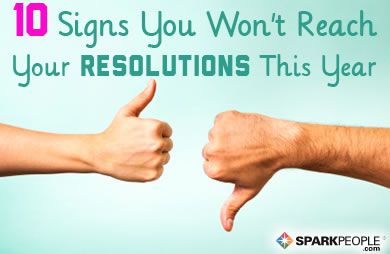 Do you start off the year with hopeful thoughts about what you want in months ahead? January brings feelings of a clean slate, knowing we get to start again. We are determined to make the upcoming year the best one yet.

According to several research surveys, approximately 50% of Americans make resolutions every year. Losing weight, getting organized, sticking to a budget, exercising more and quitting smoking are some of the most common resolutions reported. Sadly, these same surveys estimate that by the end of January, most people are inconsistent at sticking to their resolutions, and by mid-February as many as 85% will fail or give up completely.

Why is it that our best thoughts, ideas and intentions are so quickly abandoned? More important, is there anything we can do differently to change the outcome?

Here are 10 reasons New Year's resolutions fail the people who set them, plus tips to turn them around to achieve success once and for all this year.



10 Signs You Won't Reach Your Resolutions This Year


1. You make the same resolutions year after year. Albert Einstein said, "The definition of insanity is doing the same thing over and over again and expecting different results." Telling yourself every January that you are going to make a specific change, and then not doing it, is not only insane by Einstein's definition, but it's also frustrating and demoralizing. With this approach, you accomplish little more than feeling bad about yourself.

Turn it around for success: When looking at most resolutions, what people usually write down is a list of outcomes. But to reach these outcomes, behavior needs to change first. Make sure the resolutions you make are actual behaviors (actions) you are willing and able to change. You might want to lose weight, but are you willing to change the way you eat and start exercising regularly in order to do so? Be brutally honest with yourself. If the answer is "no," save the resolution for a time when you can honestly say "yes."

2. You have three or more resolutions on your list. When we try to make major changes in many different areas of our lives at the same time, we often end up overwhelmed. Change takes effort, energy and work, and we all have limited amounts of time, willpower and resources.

Turn it around for success: Pick only one resolution to focus on at a time. When thinking about the many improvement goals on your list, which one ignites your desire the most? Which one, if successful, would have the biggest positive impact on your life? Which one do you feel the most optimistic about being successful? Start there and remember that success increases confidence. Once you've reached your goal, no matter what month, you can begin working on the next one.

Continued ›
Article created on: 1/22/2014