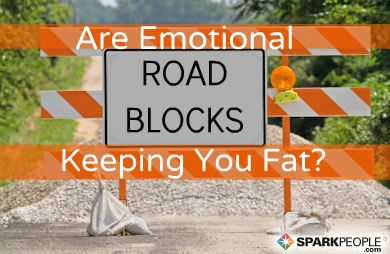 Eat less, move more is the advice touted to the overweight ad nauseam, as if it were really that simple.

I have been in the business of helping individuals take off unwanted pounds for more than 30 years. Although success usually does include cutting back on unnecessary calories and moving more, there are a myriad of other factors that are part of the equation. Sleep, stress, metabolic factors, genetics and body type can all affect how quickly or easily you lose weight. And, without a doubt, emotional factors have a huge impact as well.

I'm not a psychologist or a psychiatrist, and I would never attempt to analyze or prescribe solutions to a person who might have an emotional roadblock interfering with his or her weight loss goals. However, I can share with you some of the patterns and hindrances I've come across over many years of training and coaching my overweight clients. Perhaps a glimpse into these themes will help open your eyes to some hidden obstacles that have been holding you back.

Case #1: Whom would I be if I weren't the fat, funny one?
As long as John could remember, he was overweight. However, it never stood in the way of him having loads of friends and being happy. He could remember his elementary school teachers telling his parents how enjoyable it was to have him in the classroom; he knew how to be funny without being disruptive. His parents would beam with pride as they shared the feedback with friends and family. In high school and college, he had loads of friends. The girls adored him and thought of him as their trusted buddy and confidant. When broken-hearted by some other boy, they relied on John to cheer them up using his sense of humor.

Now, happily married with two kids, he loves overhearing their friends say, "Your dad is so funny!" When John's doctor told him he needed to lose weight to control his rising blood pressure and elevated glucose levels, he hired me to help him. Having made several failed weight-loss attempts in the past, he seriously doubted his ability to succeed. Each week he would set goals around sensible eating and making time for evening walks after dinner. The week would start off great, but by Wednesday, he was slipping back into old unhealthy eating habits and making excuses not to take his walks.

Frustrated, he couldn't seem to understand why he struggled to stick to his goals for more than a few days at a time even though he wanted to lose the weight so badly. One day I asked John, "If you were able to stick to your plan throughout the week, and you began to experience weight loss, what would that look like and feel like to you?"

Continued ›