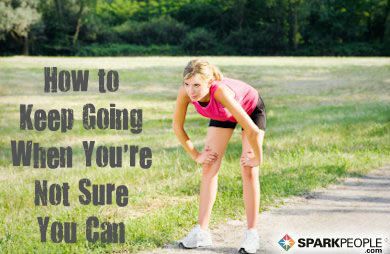 Just about everyone has heard of the "Wall," as in "hitting the wall." And lots of us - in running and in life - have run straight into it. Head on.

A wall is the point in a race (or in life) where you're used up. You're officially done. You feel as if you are draining away into a little puddle on the ground. Your legs don't respond to the word "go." You vow never to do this again.

Although I hope you never have a wall get between you and a goal, here are some tricks I've learned from running that can help you get over your own wall when it's in the way:

Keep going regardless
Promise yourself that, no matter what, you will press on, even if you are walking, crawling, or puttering. In the Boston Marathon in 1993, I was running so slowly to the finish that I felt like I was actually going backwards. Stay on your feet. Eyes straight ahead. Move.

Don't think
Just go. Do not dwell on how overwhelmingly awful you feel. Focus on the cheering crowds, your friends and family waiting at the finish, the cool water, the trees... anything.

Try bribery
Tell yourself, "Self, when I get done with this, I'm going to buy you a new car, a new house, whatever you want."
Continued ›
Article created on: 4/20/2004