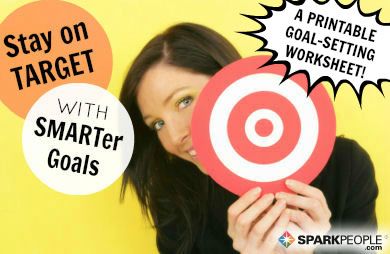 You might be gung-ho about tackling new goals, but not so fast! The best way to set yourself up for success is to make sure that your goals are SMART: Specific, Measurable, Attainable, Relevant, and Timely. Using these guidelines is a proven way to create goals that you can stick with for the long haul. After reading the explanation of SMART goals in this article, print our goal-setting worksheet to create your own SMART goals.

Make Your Goals SPECIFIC
Ambiguous or undefined goals aren't going to provide you with the direction you need to succeed. You want to give yourself a concrete goal so you know exactly what you're working toward. You know your goal is specific if it answers these questions:

WHO: Who will be involved in helping you reach your goal (including yourself)?

WHAT: What exact goal do you want to accomplish? Be very specific. Rather than "lose weight" or "get fit," define those terms: "I will lose 25 pounds," or "I will be able to run a 5K."

WHEN: When will you start and when will you reach your goal?

HOW: How will you make this happen? These are the action steps to get you toward your goal. If you want to lose 25 pounds in 6 months, your "how's" might look something like: I will eat between 1,500 and 1,800 calories each day; I will exercise for 30 minutes 5 days per week; I will track my food and calories burned each day; and I will pack my lunch at least 3 days of the week.
Make Your Goals MEASURABLE
Now that you have some of the specifics of your goal nailed down, it's time to look at how you will gauge your progress. After all, if you don't have any way to measure your goal, how will you know when you've reached it? Your goal is measurable if you can find a way to quantify your success using real numbers. Some examples of measurable goals might be pounds lost, a positive change in blood work numbers, or fitness minutes accumulated.

Make Your Goals ATTAINABLE
It's good to think big, but it's also important that you don't set a goal that is too big. A goal that's attainable for you is one that you believe you can reach and have the means necessary in order to achieve. So if you plan to work out with a personal trainer but don't have the discretionary dollars in your budget, that goal wouldn't be attainable for you.

Continued ›
Article created on: 12/4/2012