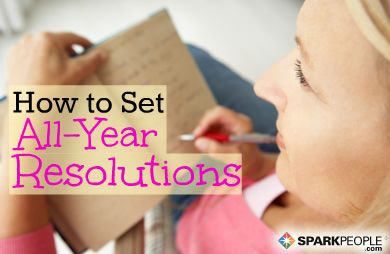 It's the day after New Year's and your list of resolutions looks like a tall order, but you think this is the year you're definitely going to follow through with them all. Now it's the middle of January and half of them have been justified into oblivion. It starts with "I don't really need to do that," for the first half, then it turns to "I just don't have time," for the rest of the list. We have all gone through it.

Making changes is a process, one that requires consistency. For example, if you are planning a party, if you wait until the last minute and you have all these things to do at once: cook, clean, arrange, call, etc., you get overwhelmed. Many times, things get left off the list. When the party is over, you are left feeling drained and telling yourself you never want to do this again.

Instead, if you start out doing a couple things early on, slowly building up to the party, you gain momentum and are able to enjoy the process, making sure you have everything you want accomplished. When the party is over, you're already thinking of reasons to have another party.

Goal setting at the beginning of the year is very similar. You can even think of the following New Year as the party you are planning for. A party that celebrates all the goals you have accomplished. There is no rush to make up for lost time, which I think is the feeling a lot of people have around the New Year. You are where you are in life and there's no making up for lost time, but you can make changes and add things to your life – slowly!

Look back at your list of resolutions and pick one or two things to focus on for the rest of January, or if you are reading this in June, start with a couple things for the month of June. Build systems to help you achieve those two things – let's say you want to drink more water and start going to bed earlier.
Continued ›
Article created on: 1/16/2004