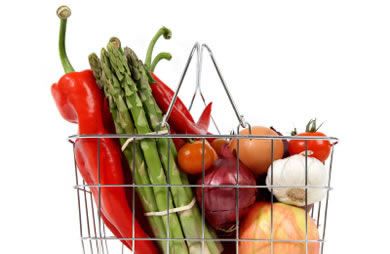 Did you know your cupboards are full of instant motivation? That the grocery store shelves are stacked to the rafters with it? That you probably open up a can of motivation on your kitchen counter every day?

Canned foods are everywhere. And besides using them for, well, sustenance, you can put them to use to motivate your weight loss and help others at the same time.

The idea came to me while I was putting away canned goods after a trip to the grocery store. I had joined Spark People the week before and already lost five pounds. But those pounds were just a few tiny ticks on my scale—nothing tangible. As I hefted cans overhead to my pantry shelves, I wondered, "What do those five pounds feel like?" I pulled out an economy-sized jug of sauce—exactly five pounds.

"Wow!" I said, lifting the jug up and down a few times. "That's a lot of fat that's not on me anymore!" It was so motivating that I put the jug on the washing machine and lifted it every time I walked by. By evening, I was so pumped about how those first 5 pounds felt, I vowed to keep adding to it.

After a couple more weeks, I'd added several cans of tomato sauce to my Canned Fat Stock, as I came to call it, witnessing, several times a day, the real weight of my fat loss boosted my motivation.

As the Christmas holidays approached, I thought, "Why should I put all these cans back on the shelves? Why don't I give them away to folks who actually need more food?" I decided to donate the "Canned Fat" to a local food pantry. Every step I took while carrying the bag of cans reminded me of how much weight I had lost. And at the same time, I felt an overabundance of joy about transforming my loss into someone else's gain. Later, I created the Canned Fat Drive SparkTeam to encourage others to create their own Canned Fat Drives.

Whether you join the Team or not, you can harness the motivation of Canned Fat in many ways to stay motivation and to give back—both symbolically and literally—the extra fat you used to carry around. Here are five ideas for your own Canned Fat Drive.

Anniversary Giveaway
Once a year (perhaps on the anniversary of the date you joined SparkPeople or reached your weight loss goal), give away the amount of weight you've lost in the form of canned goods. One member had lost so much that her donation filled the back of her SUV. Just lugging all that weight from the car to the drop box, was exhilarating for her—she was no longer carrying that excess weight around each day. And what a boon to your local food bank or animal shelter!

Continued ›
Article created on: 12/16/2008