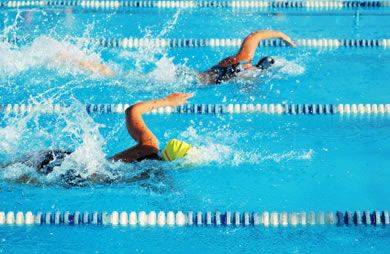 During the 2008 Summer Olympics, we heard countless inspirational stories about the athletes who were there to compete. Every competitor was special and had an inspiring story of the determination, setbacks, and hard work that got them there. But I can't think of anyone more inspiring to me than Dara Torres. After winning her first Olympic gold medal 24 years prior, she had already come out of retirement twice, won nine Olympic medals, and became the first swimmer to quality for five Olympics games.

Age is Just a Number
Being in her 40's also brought a new set of challenges for this Olympic athlete to contend with. As we age, our bodies need more recovery time after working out, and Torres is no different. She told Glamour magazine (where she was featured as one of "The 11 Greatest Bodies on Earth") that she has to keep her workouts shorter, which means they have to be very intense. And like the rest of us, she struggles with the workouts sometimes. She says there are days when she feels like she is swimming with a piano on her back.

Since I am just one year shy of 40 myself, it sounds younger all the time. But to be 41 and an Olympic athlete is very uncommon. The average age on the U.S. Swim team is 22.8 years—Torres had most of them beat by 18 years. In one TV interview, she talked about stepping onto the blocks to race. She looked at her teammates on her right and left and thought, "I am old enough to be their mom!"

And Torres

is

a mother. During her pregnancy with her daughter, who was two-years-old during the Beijing Olympics, she swam (non-competitively) for fun and to stay in shape. Although retired at the time, she was eager to get come out of retirement yet again. The moment after giving birth, Torres asked her doctor when she could start working out again! At the U.S. Olympic trials in July 2008, Torres told TIME magazine that she literally nursed her child before jumping on the blocks and racing. There, she set an American record in the 50-meter freestyle and won the 50-meter freestyle and the 100-meter freestyle race. She swam 2.47 seconds faster than her 1988 Olympic effort as a 20-year-old! Many people say that people get slower with age, and most female athletes reach their peaks before they're 25. Good thing Torres didn't listen!

Continued ›
Article created on: 8/13/2008