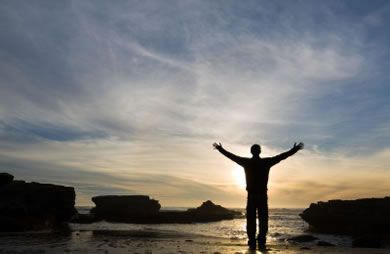 As I write this, the 2008 Summer Olympics are just around the corner. Athletes from around the world will gather in Bejing, China, to compete in their respective sports in hopes of honoring their countries and fulfilling lifelong dreams of winning Olympic gold. Watching these athletes is like art, as they flawlessly execute movements with speed, power, and grace. It truly is poetry in motion and always inspires me to be the best I can be, too.

When considering these athletes and their abilities—some of which come from hard work and others that come from natural talent—it's hard to imagine that some of them have overcome insurmountable odds to get where they are today. One notable champion was the late Wilma Rudolph.

Born in 1940 in rural Tennessee, Wilma grew up in a family with 22 children. Her father was a railroad porter and her mother a maid. When Wilma Rudolph was only four years old, she was diagnosed with polio, a crippling disease that rendered her unable to walk.

Her mother did everything she could to help Wilma walk on her own again, even though all of her doctors assured her that it would never happen. Every week, she took Wilma on a long bus trip to a hospital to receive therapy. Although the doctors gave no assurance, they encouraged her to massage Wilma's legs every day. She taught her other children how to do it, and Wilma's mother and siblings and rubbed her weak legs four times a day.

By the time she was eight, Wilma was able to walk with the help of metal leg braces. After that, she used a high topped shoe to help support her foot, and she played basketball every day with her brothers. Three years later, her mother came home one day to find her playing barefoot! She didn't even have to use the special shoes anymore!

A track coach encouraged Wilma to start running. She ran so well that during her senior year in high school, she qualified for the 1956 Olympics in Melbourne, Australia, where she won a bronze medal in the Women's 400 meter relay.

In 1959, she qualified for the 1960 Olympic games in Rome, Italy, by setting a world record in the 200 meter run. At the Olympics that year she won two gold medals—one each for the 100 and 200 meter races. She then sprained her ankle but ignored the pain to help her team win another gold medal by anchoring the 400 meter relay! Just 16 years after being told by doctors that she would never walk again, Wilma was named Female Athlete of the Year by the Associated Press.

Wilma Rudolph retired from her running career when she was 22 years old. She went on to coach women's track teams, encouraged and motivated other young people to reach their dreams, and even started a foundation for children. In 1994, brain and throat cancer took her life, but her influence still lives on today.

One of my favorite quotes from Wilma Rudolph said, "The triumph can't be had without the struggle. And I know what struggle is."

Does her quote strike a chord with you? To me, it's about reaching any goal, whether you want to lose weight, get healthy, or fulfill a childhood dream. There are many struggles we all must overcome, but when we do, it makes our achievement that much better. Like Wilma who had a loving family and involved coaches help her learn to walk and then run, we do not have to face our struggles alone either. We can help each other through encouraging words and support just as Wilma's brothers and sisters lovingly massaged her legs. We can help each other to fulfill our dreams and overcome our obstacles!

This is the lesson you can learn from one of America's greatest Olympic athletes. Even when things seem hopeless, and even if people tell you that it's impossible, never, never give up.

Editor's Note: We hope you'll enjoy this video we found about Wilma Rudolph and her many struggles and accomplishments.


Article created on: 8/5/2008