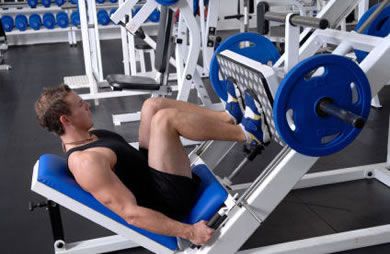 Navigating your way around the weight room can sometimes feel like an obstacle course—especially if you are not familiar with the surroundings. You can easily injure yourself if you're not being careful or attentive. In probably the largest study ever performed on weight room injuries, University of Arkansas researchers looked at weight-training injuries over a 20-year period and found that:
The body parts most often injured in the weight room were the hands (23% of injuries) and the upper trunk (18% of injuries).
Soft tissue injuries (such as muscle pulls and strains) accounted for 64% of diagnosed exercise injuries
Forty percent of injuries occurred while exercising at home (and 18% at fitness centers).
Just as the manufacturing world works by the slogan that "Quality is job number one," safety should be your number one priority when you're at the gym. Strength training, like many actions in life, shares both risks and rewards. But you can keep the benefits and reduce your risk of injury by following these 10 safety tips for strength training.

Safety Tip #1: Always warm up.
Think of your muscles and connective tissues as cold rubber bands. If you were to pull hard on a cold rubber band, there is a good chance it will break, and your muscles are similar. A warm up serves to elevate your heart rate and increase blood flow throughout your body to prepare the muscles you are about to exercise. It should last about 5-10 minutes, at a low intensity that increases your breathing rate and makes you break a little sweat. Try to choose an activity that involves all muscle groups, like the rowing machine, elliptical trainer (with upper body handles) or power walking.

Safety Tip #2: Use machines first.
Some people believe that you are not really "strength training" until you graduate to the free weights. This is not true. Both machines and free weights have advantages and disadvantages, but the machines are the best starting point for beginners. When using a machine there's little to no chance that you'll drop a weight on yourself; it's simple to change your weight by moving the pin along the weight stack; and the machine ensures that your body is in proper position for good form and a lower risk of injury. Once you've trained with machines for a few weeks, you can gradually move up to free weights.

Safety Tip #3: Start with a light weight.
When starting a strength training program—or even trying a new exercise that you haven't done before—it's wise to select a lighter weight that you can lift comfortably. If your body is heaving, leaning or rocking for momentum to help you lift, or you can't lift the weight with proper, controlled form, then the weight is definitely too heavy and could injure your muscles or joints. It may take some trial and error if you're just starting out, but aim for a weight that you can lift for 12-15 repetitions in good form. Once you've mastered that weight, increase it by no more than 10% (5 more pounds if you started lifting 50 pounds) at your next session.

Continued ›
Article created on: 10/9/2007