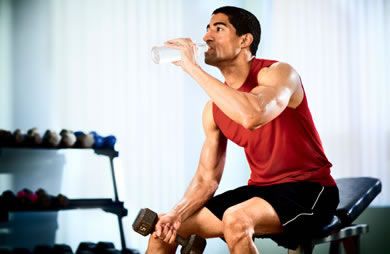 I hadn't been to the gym for a few days and was really looking forward to a good workout. It was just after six in the evening and the place was packed but a recumbent bike was available so I signed up for 30 minutes and hopped on, anticipating a nice cardio workout. Imagine my disgust when I sat back against the seat and was immediately soaked with the previous user's sweat. Yuck!

Just like you had to learn good table manners as a child, there are also some firm rules to follow for sharing a workout space with others. Even if you feel like you're in your own little world when you're exercising, keep in mind that others are trying to use that space too. Here are some general guidelines that will make your next gym experience pleasant for everyone:

Equipment Etiquette

Clean up after yourself. Always bring a towel—and use it. There's nothing worse than getting covered in someone else's sweat. Towels help keep surfaces clean, dry and germ-free. Most gyms have cleaning supplies available—use them to wipe down your equipment before heading off to the next station.

If you take something out, put it away. Have you just finished using a set of free weights? Then put them away. Leaving dumbbells, bands, exercise balls and other equipment on the floor is a tripping hazard and makes it difficult for other members to find the equipment they need. Don't drop the weights when you're done either—it's loud and very distracting for others around you.

Learn to share. Don't hog the equipment for yourself. If you're in the middle of a circuit but taking a short break, let others slip in between sets to save time. Don't leave your towel on the machine and walk away expecting the machine to still be available when you return. Everyone has a right to use the equipment, not just you.

Practice patience. Don't rush others. If someone is obviously using a piece of equipment, don't ask if they are almost done. Wait until he or she takes a break and be prepared to wait or use something else in the meantime.

Be on time. Many gyms lightly enforce 30-minute time limits for cardio machines during peak hours. If your gym is busy, respect that limit and don't go over. If you want a really long cardio workout, avoid the gym during the busy times, like the after-work rush between 5 p.m. and 6 p.m.
Continued ›
Article created on: 9/4/2007