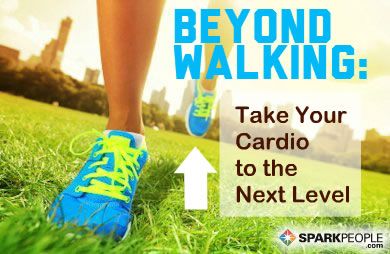 It's hard to say enough about the benefits of walking for weight loss and general health, both physical and mental. It definitely belongs on your to-do list as often as possible. That's why you'll find an extensive collection of information on walking for people at every fitness level in SparkPeople's Walking Guide and Fitness Resource Center.

But many people will eventually reach the point where walking alone isn't enough to help them achieve their personal fitness and weight loss goals. Here's how to determine if walking is no longer working for you, and what you can do about it.

Pay attention to your heart rate. To get the most benefit from your cardio exercise, you need to elevate your heart rate to a specific level, known as your target heart rate zone. This zone is a range between 60% and 85% of your maximum heart rate. This range will maximize your calorie burn and allow you to continue improving your endurance, conditioning and overall fitness level. As your fitness level improves, your walking workout will become easier. After a while, it can become extremely difficult to increase your walking intensity (speed) enough to keep your heart rate in that training zone for the length of your workout—even if you include hills or inclines.

Especially if you have a limited amount of time for exercise, you no doubt want to make the most of your time by keeping both your calorie burn and the training benefits as high as possible. When your walking routine no longer elevates your heart rate above 70% of your max, walking alone probably isn't enough to reach your goals. In this case, it's time to add some different aerobic exercises into your program that will be challenging enough to keep your heart rate elevated.

Look at your exercise routine. Although walking may be the safest and easiest way for most people to begin a regular exercise routine (especially you've been inactive for a while, you've got a lot of weight to lose, or you have medical concerns that limit what you can do), you still need to incorporate some variety into your exercise program. Here's why:
Your body adapts itself to exercise you do on a regular basis. Over the course of about six weeks, it will "learn" how to perform an activity more efficiently, which means you'll will burn fewer calories overall. Likewise, if you don't continuously increase the intensity of your workouts, they will no longer stimulate your muscles or your cardiovascular system enough to provide training benefits.
Your body responds to the specific exercises you do. Therefore, you need to do a variety of exercises to effectively condition your entire body and improve your overall fitness. In other words, when you walk, you condition your body for walking. You'll be able to walk faster and longer, but that won't make you a better runner, golfer, tennis player, or swimmer. Nor will it make your "walking muscles" or your cardiovascular system any stronger than they need to be—just strong enough to handle the walking you do. And, of course, walking alone doesn't train your other muscles.
For all these reasons, it's a good idea to expand your exercise repertoire to include a variety of activities and intensity levels. And you don't need to wait until you've gone as far as you can go with your walking program.

Continued ›
Article created on: 6/12/2007