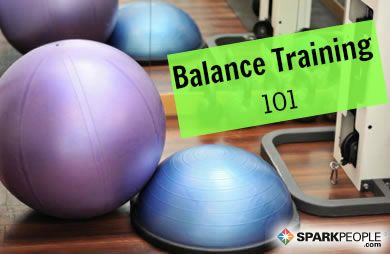 What is with all the weird looking toys you see in the gyms, sporting goods stores, and fitness magazines today? We see funny looking things like a cut-in-half stability ball called a BOSU. There are the small circular "pillow discs" that are filled with air. Don't forget about the other items like balance wedges, wobble boards, rocker boards, and indo boards. They look interesting enough, sometimes even fun, but what's the point of all these devices?

These fitness tools are specially designed to help people improve their balance. You may think that the elderly are the only ones who should be concerned about balance, but that couldn't be further from the truth.

Think back with me to when you were a kid. Do you remember some of the things we used to challenge each other to do? Things like "how long can you hop on one foot?" or "who can walk on the edge of the sidewalk the longest without falling off?" We didn't call it exercise or balance training then, but that is exactly what we were doing. Activities like these helped us to develop our balance and stability and to survive our youthful clumsiness. Today, top athletes in the world recognize that balance training helps them to perform better in their sports and fitness experts know that good balance and a strong core go hand in hand.

You don't have to be a world-class athlete to add a little balance training to your workouts. Plenty of simple exercises you can do at home (or at the gym) will improve your balance significantly. But if sticking a dismount or avoiding a tackle aren't on your list of daily priorities, why does balance training matter? Let's look at the reasons why balance training is so important.

Continued ›
Article created on: 9/29/2009