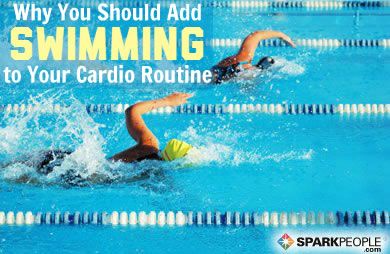 I recently swam laps for the first time since my childhood swimming lessons. The next day, when my muscles were sore and fatigued, I realized that there was much more to swimming than just splashing around. This gentle-but-challenging form of exercise builds strength and endurance in the whole body.

Swimming utilizes many different muscle groups as your body pushes against the resistance of the water. The shoulders and upper back help your arms power through the various strokes; core muscles help maintain your position in the water; the glutes drive your legs kicks to propel you forward. Since water allows for a wide range of motions, many muscle groups are involved in a single workout. Finally, like any cardio workout, you're also training your heart and lungs.

If you're new to swimming, enroll in adult lessons at your local pool or gym to master the various stroke techniques. Beginners may also start swimming with a kickboard (or other flotation device) until they're comfortable in the water.

Just like any other workout, make sure that you gradually warm up, stretch, and cool down during each session. You don't have to swim fast for every lap. Instead, try changing your speed or stroke for added variety, swimming a few gentler laps to recover, and then speeding up again.

If you've avoided the pool since those childhood lessons, these stroke basics will help you dive in again with confidence:

Freestyle Stroke
Also know as the crawl, this is one of the most common strokes. Lying facedown in the water with your legs fully extended, propel forward with fast "flutter" kicks. Alternately bring one arm from the side of your body, out and over the water in front of you, and then back down into the water, pushing your hand down toward your feet. Keep your face in the water except to take breaths on one side by turning your head to the side as your arm comes out of the water.

Backstroke
As the name implies, you are lying on your back during this stroke with your head resting above the water, looking up towards the ceiling. Like the freestyle, alternate fast kicks with a slight bend in the knees, but move your arms like a windmill, entering the water above your head, in line with your shoulder. Since you won't be able to see where you are going, use the lane markers on each side of you so that you know where you are in the pool. Never perform this stroke in a crowded lane where you are likely to run into other people.

Continued ›