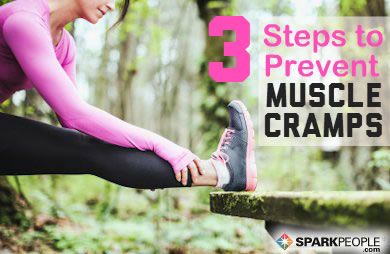 There are two kinds of people in this world: People who have had muscle cramps and people who will experience them sooner or later.

Muscle cramps happen to almost everyone, and for a lot of different reasons. Vigorous exercise can certainly make you susceptible to muscle cramps, but it's not the only cause. In fact, regular exercise (when done properly) can make muscle cramping less frequent and less painful.

So What Exactly Is a Muscle Cramp?
A muscle cramp is simply an involuntary contraction (spasm) of the muscle fibers. It can happen to any muscle, but is most common in the calves, thighs, and hands and feet. It can affect a small part of a muscle, the whole thing, or even a whole group of muscles that typically work together (e.g., writer's cramp). A cramp can last anywhere from a few seconds to 15 minutes or more, or come and go multiple times over an extended period.

Sometimes, a muscle will cramp in response to a certain kind of movement (usually one that shortens the muscle, such as when your calf muscle cramps when you point your toes), or during/after a particularly ambitious exercise session or activity you're not accustomed to. But it can also happen when you're not using the muscle at all. For example, some people often experience a ''charley horse'' (calf muscle cramp) while sitting still, or even while lying in bed at night. This is especially common in the elderly, but young people can experience it, too.

Medical professionals have identified several different kinds of muscle cramps. Some, like tetany and contractures, are associated with various medical conditions or medications, and you may need medical help to deal with those specific types. Other muscle problems can masquerade as cramps. For example, if you experience leg pain during moderate walking but goes away after you stop walking, you may be suffering from ''intermittent claudication,'' a symptom of circulation problems (not a cramp) that warrants a trip to your doctor.

Related Note: If you have severe and/or persistent problems with muscle cramps that don't seem to be related to any of the common situations described below, or if your cramps don't respond to the basic suggestions offered here, you should see a medical professional to get to the root of the problem.

The most common type of cramp is called a ''true'' cramp. Symptoms may include sharp, sudden pain, inability to use the muscle, visible bulging, twitching or firmness, and sensitivity to pressure. Unlike strains and sprains, true cramps aren't the product of damaged muscle tissue; and the cramp itself doesn't injure the muscle beyond making it a little sore for a while. True cramps are typically caused by a temporary situation such as dehydration, vitamin or mineral deficiencies, or muscle fatigue brought on by too much exercise--problems you can correct and/or avoid on your own.

Continued ›
Article created on: 8/22/2012