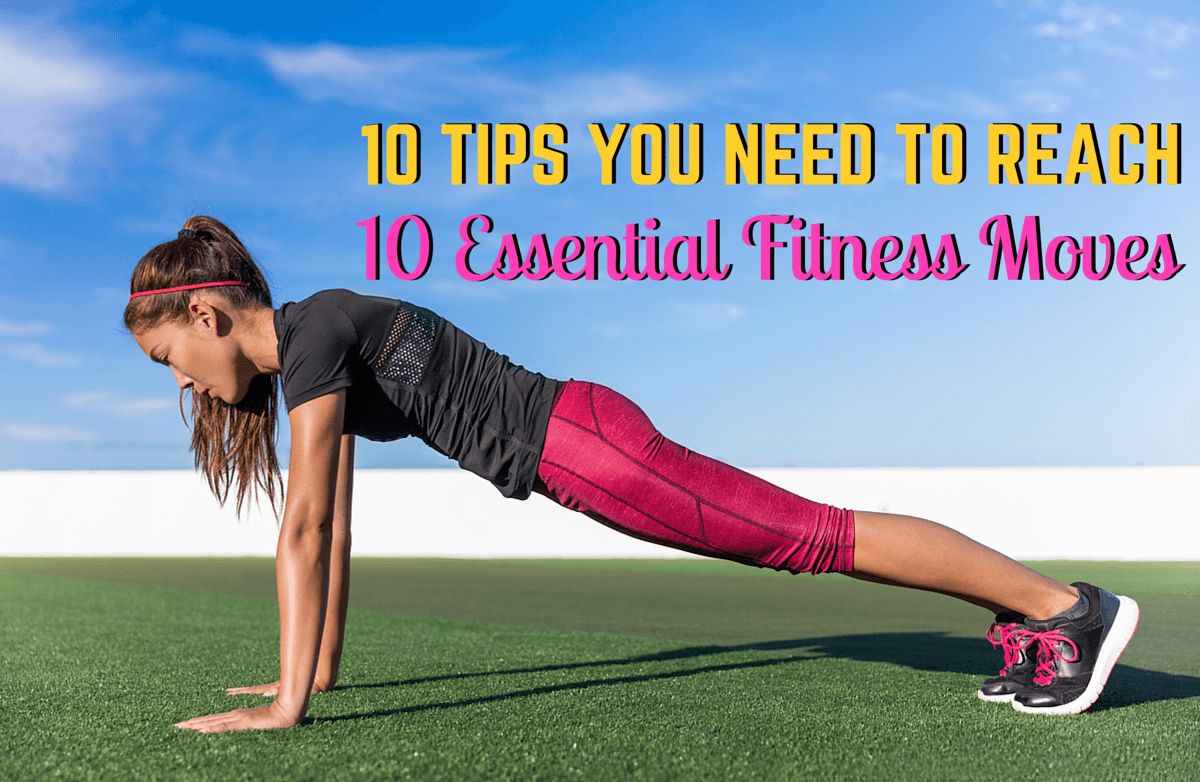 Setting goals is step one in the journey to a healthy lifestyle. While experts have different opinions on if goals should be big or more achievable, most experts agree goal setting keeps you on track and motivated, no matter the obstacles that arise along the way.

Whether you want to build muscle, feel better about your body, lose weight or just challenge yourself, those just starting out often have a particular, sometimes intimidating exercise or move that serves as their personal benchmark for success. Do this once seemingly unachievable thing, and you're well on your way to health and happiness, baby. The process of working towards one achievable goal, accomplishing it and seeing the changes in your mindset and overall confidence level lays the groundwork for a lifetime of pursuing and realizing increasingly more challenging goals.

Step up to the starting line today and unlock the secrets to effectively hitting 10 of the most common beginner fitness goals with expert advice from Jenn Mathis, regional director of fitness at Gold's Gym. Learn how each move works specific muscles, the benefits you'll reap and how to work your way toward success!

Run One Mile Without Stopping

Benefits: Consider running the MVP of cardio workouts: It builds endurance and strength, keeps the heart healthy and helps you burn calories and body fat, Mathis says. A 2012 study published in the Journal of Adolescent Health also found running can even help improve your sleep.
Muscles Worked: A laundry list of muscles (yes, it's that good for you!), including quads, hamstrings, glutes, calves and your core.
Achieve This Goal: Don't be embarrassed to start slowly. "Work on interval training first," Mathis suggests. Jog from one stop sign to the next, and then walk for a minute to recover. "Run for 10 seconds, walk for 50 seconds, then keep increasing the running time and decreasing the amount of time you're walking," Mathis says. You'll be at one mile before you know it!
Complete Five Proper Pushups
Benefits: Pushups build upper-body strength and endurance, which will make it easier to complete everyday tasks like yard work or hauling in the week's groceries in one trip.
Muscles Worked: "The main muscles that a pushup works are your chest muscles, your arm muscles and your shoulders," Mathis says. Proper form is key here—sagging your hips or arching your back will actually make the move harder.
Achieve This Goal: First, make sure you can do a plank. Then, move on to pushups on your knees. Once that feels comfortable, you're ready for your toes, Mathis says. "Do one, do two and keep working your way up slowly so you don't ruin your form," she says.
Climb Five Flights of Stairs Without Getting Winded
Benefits: Feel less exhausted when you climb stairs at your house or at work—less huffing and puffing is always a good thing!
Muscles Worked: Of course, your leg muscles—quads, hamstrings and calves—are working, but so are your glutes. "Some people forget their backside is what actually pushes them up," Mathis says.
Achieve This Goal: Add squats and lunges to your routine to strengthen the muscles you'll need to climb the stairs. Then, start on a step mill at your local gym, and gradually increase the number of flights you're able to walk up. "That will get you stronger and more conditioned to climbing those stairs without getting sore, without getting winded," Mathis says.

Continued ›
Article created on: 6/14/2016