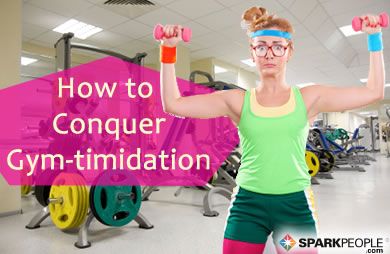 Strength training is no longer just for bodybuilders or athletes. Over the last few years, strength training has gained a lot of popularity in the fitness world among both men and women and across all age groups. This is awesome because strength training has immense benefits for anyone who wants to feel better and look better.
What's not awesome, however, is the number of people (especially women) who want to start strength training, but feel intimidated in the weight room.

I get it. Trying something new can be a scary thing, especially in the fitness realm, where many people already feel unsure of themselves. Add to that the strange-looking equipment and grunting and groaning that you typically find in a weight room, and it doesn't exactly equal an appealing environment for a newbie.
But never fear. You, too, can start your journey into the world of strength training with just a few helpful hints. If you've ever felt scared or intimidated to walk into a gym, and more specifically, the weight room of a gym, this advice can help you find your way--and your confidence.

1. Educate yourself and have a plan.
First and foremost, educating yourself about what you should be doing in the gym, and how certain exercises are performed, will go a long way toward helping you feel more comfortable and confident. Luckily for you, there is a ton of good (and free!) information available for people who are interested in learning more about strength training. SparkPeople.com's very own Coach Nicole wrote a Reference Guide to Strength Training, and you can also find a ton of information on my website, GirlsGoneStrong.com.

Remember, there is no need to re-invent the wheel. There are plenty of great training programs out there that have produced fantastic results. SparkPeople's Workout Generator has detailed exercises (with animated photos and instructions) whether you want to use free weights, weight machines, your own body or some other type of equipment. Simply choose a workout, learn the exercises, follow it for 6-12 weeks and then assess your progress. Keep in mind that if you're new to strength training, bodyweight exercises might be all you need at first to get results. That can be especially comforting if the machines in the gym seem complicated or confusing to you.

It may also be a good idea to hire a qualified trainer for three to five sessions to learn basic movement patterns and get coaching on more complicated exercises you want to learn.

Continued ›