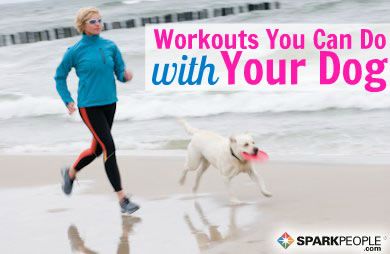 The obesity epidemic isn't just apparent on the streets of America's small towns and cities. Check out any veterinary clinic, and you will see that the numbers are rising in the canine and feline worlds, as well. The Association of Pet Obesity Prevention reports that 52% of dogs are obese or overweight--so it seems that getting Fido off the sofa is a good idea. Pets need activity for the same reasons we do: better sleep, weight control, increased energy and better moods. But when it's hard enough to find time to meet your own fitness needs, how can you possibly find time to schedule exercise for your pet, too?

Here are a few ideas to help you combine your exercise time with your pet's.

Sign Up for a K9 Fit Club Class. K9 Fit Club classes are popping up all over the country. These classes offer a workout for both you and your pet, but are also a chance to work on training behaviors. All instructors are certified in human/canine fitness, but be sure to ask about dog obedience expectations, level of intensity and if there are any dog weight/height requirements. Class workouts are good for all ages and fitness levels, from Begging for Beginner®, Bow Wow Bootcamp® to NamaSitStay™ and include cardio, strength training, plyometrics and flexibility for both pooch and participant. K9 Fit Club also holds special needs classes in some locations. See if there is a K9 Fit Club location near you. You can also search "dog and owner fitness classes" online to find similar programs in your area.

Take Your Dog to the Gym. You've seen take-your-child-to-work days. Now take-your-dog-to-the-health-club days are becoming more popular. Many fitness studios and park districts are offering "Dog Yoga" classes, too, especially for smaller breed dogs. Although your dogs won't be doing many downward dogs on demand, they will be incorporated into the poses to offer you a fun, unique challenge. Check with local gyms and yoga studios in your area to see whether they offer any dog-friendly programs.

Try Pawsilates. If you want to work your waistline without leaving behind your canine, Pawsilates can be just the thing to try at home. The workout combines Pilates movements with the added weight of your small dog (up to 40 pounds). The Pawsilates DVD features three mini workouts for you to do with your pet—and a rewarding pet massage winds down the workout when you're done.

Take an Agility Class. Dog agility classes are perfect for pets that have done well in basic obedience but are ready to go to the next level. Agility not only requires your pet to follow your commands but to be able to run a complicated obstacle course. You'll be running too, encouraging your pet and giving commands, so you'll get a workout, too. The United States Dog Agility Association offers links to local agility groups and classes.

Continued ›