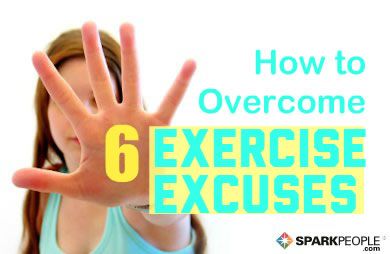 Most people begin a new fitness program with great intentions and lots of motivation--only to find both waning within a few weeks. The realities of work, school, social and family demands overwhelm the desire to get fit, and exercise gets puts on the back burner. Before you start your next fitness kick, use these 6 strategies to make sure you don't use "being busy" as an excuse to not get moving.

Excuse #1: I'm too tired to exercise when I get home from work or school.
If you typically crash on the couch after a long day (and can't seem to get back up again), there are several potential solutions. First, try bringing exercise clothes with you to change into right before you leave for the day. That way, you can either head straight to the gym or out for a walk immediately when you get home—without ever letting yourself succumb the siren song of your comfy couch. If you typically have more energy in the morning than in the afternoon, try an a.m. workout. Many gyms offer early-morning classes and provide showers so you can get ready for work without going all the way back home. You can also just roll out of bed, throw on a ball cap and a pair gym shoes and go for a walk in your PJs if that's what it takes! Hit the shower when you get home and you'll be good to go.

Excuse #2: I can't find a whole hour in my day to devote to exercise.
Who says you have to exercise for a whole hour in order to reap the benefits of physical activity? Studies show that even 10 minutes of consistent activity are beneficial to health and help with weight management. And even if you want to fit in 60 minutes of exercise, you don't have to do it all at once. Instead, you can break that hour up throughout the day, fitting in a little here and there, whenever you do have time. For example, you can start the day by taking the dog for a 20-minute walk around the neighborhood. At lunch, you can take 15 minutes to do laps around the office parking lot. And then you can hit the gym for 25 minutes of strength training on your way home. Even just one of those shorter exercise bouts has major benefits. It's all about doing something rather than nothing. Add in a little interval training or even Tabata training, and you can get a major calorie burn in just a few minutes.

Continued ›
Article created on: 6/18/2013