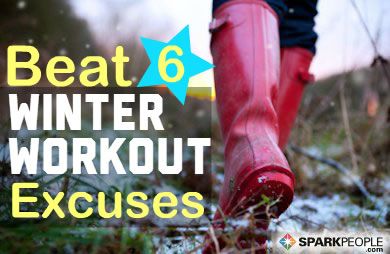 It's tempting to take a tip from the bears and go into hibernation mode as soon as the temperature starts to fall, but if you change your perspective on it, winter can be the ideal time to ramp up your workouts. Staying active will allow you to enjoy the tastes of the season without apology or regret. But it's easy to give in to excuses when it's dark at 4:00 in the afternoon and the wind is sending an icy chill down your collar. Here are six solutions that will shut down your negative voice when you try to talk yourself out of your winter workouts.

Excuse #1: It's way too cold to go for my usual walk!
This is the perfect excuse to update your workout wardrobe for winter! To stay comfortably warm (without overheating) during outdoor workouts, you'll want to dress in layers. Look for fabrics that wick moisture away from the skin like polypropylene and polar fleece. (Your old cotton sweatpants just won't do!) Make sure you pay special attention to covering your head, hands and feet appropriately. When you're dressed appropriately, you will never feel cold.

Excuse #2: The sidewalk is covered with ice or snow. I don't want to slip and fall.
While there is such a thing as too cold and too icy for an outdoor workout, most of the time you'll be just fine with a few simple precautions. If your normal walking route takes you far away from home, change it up by zigzagging up down the streets of your neighborhood so you never stray too far. And be sure to bring a mobile phone with you just in case you get into trouble along the way. Finally, make sure you wear shoes that are designed to grip icy and snowy surfaces. Insulated hiking boots are perfect for walking in the winter. If you'd rather run, look into special traction devices you can attach to the bottom of your shoes for a better grip, like the Kahtoola MICROspikes Traction System or YakTrax.

Excuse #3: It's dark when I go into work and dark by the time I get home. I don't want to go outside.
Who says you have to? Maybe you've been meaning to join a gym for a while, well now is the perfect time to do it. Many fitness centers offer membership specials in late December and January to encourage people to keep their New Year's Resolutions to exercise more. And if you're worried that you'll get bored slogging away on the treadmill or elliptical machine, just make sure you join a gym that offers group fitness classes so you can mix it up. Try a dance cardio class like Zumba or feel extra tough taking kickboxing. You can even get conditioned for summer cycling by taking a regular Spinning class, then you'll be fully prepared to take advantage of the warm weather once it returns! If a gym isn't in your budget, remember that you can get a great workout at home, too!

Continued ›
Article created on: 1/10/2014