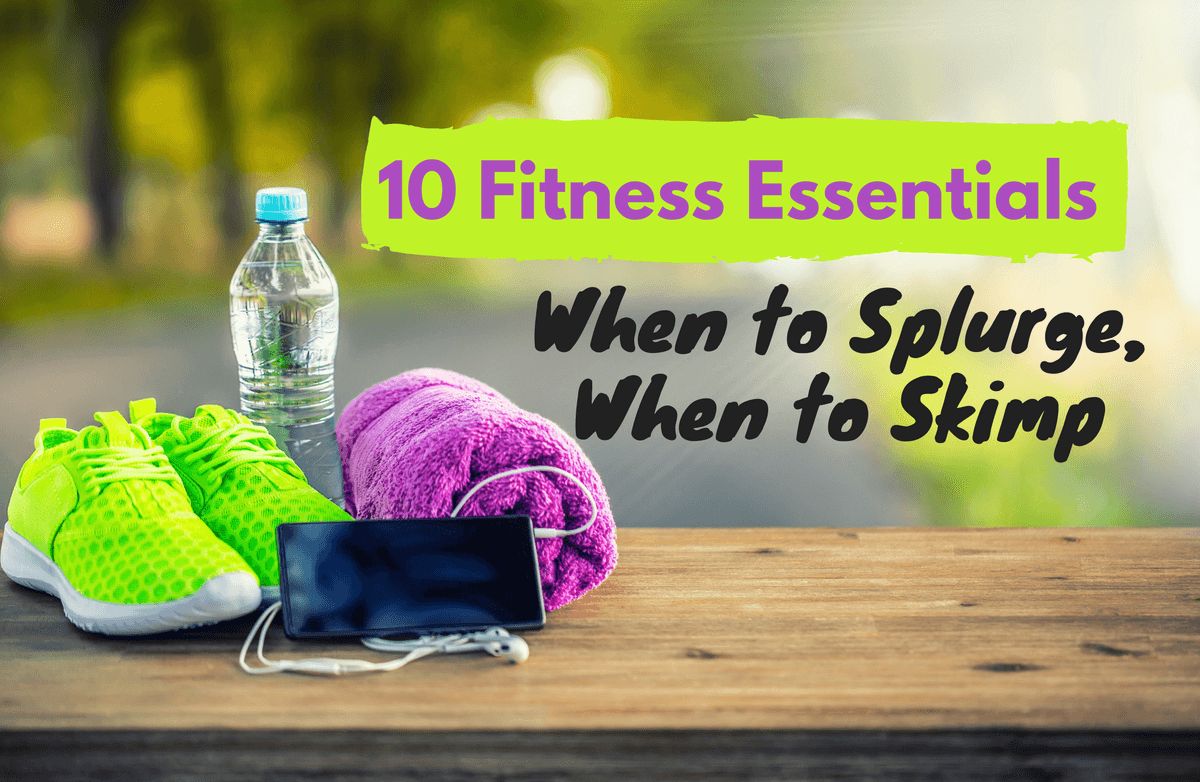 Getting fit can be a pricey endeavor. From having the proper footwear to the right sweat-wicking apparel to the gadgets, gizmos and equipment that promise to help you get fit and healthy, you can spend a small fortune on working out—but you don't have to! Whether you're trying to find the gear you need to hit the gym or are looking to outfit a workout room at home, here's what you need to know about splurging and saving on fitness equipment.


Splurge: 5 Fitness Items Worth Spending More On

For many, money is tight. But when it comes to these items (assuming you're in the market for them), skimping for a cheaper model might cost you more in the long run.
Shoes. If you've ever bought a pair of cheap sneakers and tried to run in them, you know a good pair of workout shoes is worth every cent. The proper footwear isn't just a matter of comfort—it's a matter of safety! Wearing shoes that don't correctly support the activity you're doing can lead to muscular imbalance, decreased performance and even injury or overuse. If you're just starting out with your fitness routine and aren't sure what type of kicks to buy, try on a variety of cross trainers, which are designed for multiple activities like walking, boot camp, lifting weights and being on the elliptical. Stick to name brands and splurge a little on the pair that feels the best on your foot. Get more sneaker-buying tips.

Sports Bras. I know, ladies, sports bras are almost as expensive as your regular bras! But, they're actually almost more deserving of the price tag, because the difference between a cheap sports bra and a quality one is huge. Most department stores now have a sports section for bras, so try on a variety of options and find one that fully supports you and is comfortable (jumping up and down in the dressing room is encouraged!). It's worth it to pay a little more for a sports bra with adjustable straps, so that it can size down as you do, too! Find the best-fitting sports bra with this shopping guide.

Pedometer. Sure, you can buy a pedometer for $5, but it won't be very reliable, and will probably only work for a few months before you need to replace it. If you want to accurately count your steps, plan to spend at least $25 on a quality pedometer that comes with instructions and requires calibration. Or, go for one of the more robust activity trackers that also monitor other activities, calories burned and sometimes even heart rate.

Gym Membership. While you certainly don't have to pay for a "big box" health club with every amenity under the sun, you definitely don't want to join any old gym just because it's the cheapest option. Always ask for a five- to seven-day trial membership first (which should be free). While some chains do have low rates that offer good-quality equipment, it's best to shop around. From equipment maintenance to cleanliness to the quality of the staff, most of the time you get what you pay for. Psst—here are some secrets to saving on your membership!

Home Cardio Machines. It may be tempting to pick up the cheapest elliptical or treadmill when you're on a budget, but when it comes to buying a cardio machine for your home, you definitely want to invest in quality equipment. Do online research, go to a fitness equipment store and try out a variety of models to find a piece of equipment that is sturdy, easy to use and has a warranty of more than a year. Be sure to check out consumer reviews. Buying a good cardio machine the first time is far more cost-effective than having to buy another model after the cheap one breaks down. A high-quality model will last you for years to come, making its per-use cost much lower than a bargain-basement model.
Continued ›
Article created on: 8/30/2011