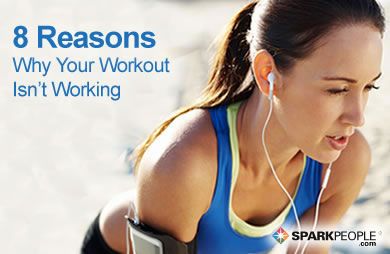 We all know how fantastic working out is for your health. But what happens when your workouts aren't delivering the results you want? Or you're not getting the results you think you should be getting? While any kind of physical activity is good, some workout plans are better than others and—as you might suspect—a lot of other factors come into play when trying to lose weight and tone up. So if your workout isn't working for you, one of the following eight reasons could be to blame. Find out how to turn that around and get the results you deserve!

1. You're not working hard enough.
If you have been exercising consistently for several weeks, months or years, it's definitely time to increase the intensity and start pushing yourself. As you work out more and more, your body adapts and becomes more efficient at doing that certain activity. This means that over time, the 30-minute workout that was challenging for you three months ago doesn't provide the same results. In fact, you're actually burning fewer calories and your body is no longer changing if you're still doing the same old thing.
Get-Results Remedy: In order to get results from exercise, you have to regularly push yourself beyond your fitness comfort zone. Whether you increase the frequency, intensity, or duration of your workouts, you have to switch it up. Not sure where to start? Try adding an extra day of cardio onto your routine, testing out a new group exercise class at the gym, adding another loop around your walking track, or bumping up the incline and speed on the treadmill. Remember, when it comes to exercise, change is good—and that change should be challenging!
2. You're working too hard.
Yes, you can actually work out too hard and too much. If you're someone who goes all out in every workout, or rarely to never takes a day off to rest, you could actually be breaking your muscles down instead of building them. If you always feel tired and sore, have unexplained headaches, insomnia or just a general lack of motivation and an inability to complete your workouts, you may be overtraining.
Get-Results Remedy: Take three to five days off of exercise altogether. It may be hard for you to do this, but know that you must allow your body the time it needs to rest and recover. Get plenty of sleep each night and fill up on nutritious foods. Then slowly ease back into your routine, making shorter, less intense workouts part of your workout plan. And remember to always take one to two rest or easy active recovery days a week!

Continued ›
Article created on: 5/31/2011