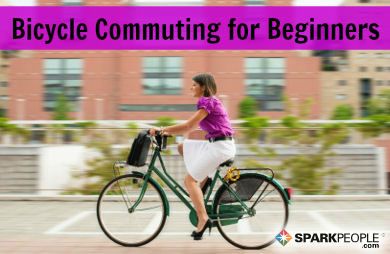 It makes perfect sense. Instead of driving to work and back each day—which uses gas and does absolutely nothing for your rear or your stress level—you bike your way to work, miss the traffic, burn some calories, get an energy boost, and save the planet one pedal stroke at a time. Not to mention that you can actually get a $20 a month kickback from the Bicycle Commuter Act just by exercising your right to get to work on two self-powered wheels. Sounds glorious, right?

Biking does sound great on a 70-degree Friday when your boss allows you to dress casually for work, but what if the weather isn't cooperating? Or what if you have a big meeting and just can't risk getting your nice clothes all sweaty? As fantastic as bike commuting sounds, it can pose some challenges.

This is why we got personal advice from three SparkPeople members who bike to work with the best of them. These seasoned bike commuters shared their top tips, advice and personal stories to encourage you to try biking to work! Before we get started though, a quick note on safety. Obviously safety is of the utmost concern, so if you've never biked on the road, be sure to read these bicycle safety tips.



4 To-Dos Before You Begin Bicycle Commuting
Find a seasoned biking buddy. SparkPeople member Tanya (RESIPSA99), who commutes 8 miles to the office (and back) in rain or shine, recommends that every first-time bike commuter befriend someone who regularly commutes by bicycle—whether it's a coworker, someone in a bike group or a salesperson at your local bike shop.

"I was lucky enough to have a lot of coworkers who cycle-commute, and one of them shepherded me the first few days I commuted, showing me the best route," Tanya says. "It was a huge eye-opener for me, as prior to that, I had no idea that there was such a thing as designated bike routes. Once I told him that I was really nervous of traffic, he figured out the best route from my place to work, and parts of it I don't think I would have found without him."

Tanya also recommends using Google's bike map directions to help you find the best path and make use of any designated biking routes in your area.


Start simple. Just like an exercise, it's better to start slow and build over time. If it has been years or even months since you've been on a bike and your commute is a long distance, SparkPeople member Garrett (GRITSTER) says to do shorter rides closer to home until you have the endurance and confidence to commute to

and

from work.


Do a test ride. Because you can never be 100% sure what to expect your first time out, SparkPeople member Michelle (KESTREL500) suggests that new bike commuters do a dry run or two on a non-work day to make sure they know how long it will take and how they will feel after the commute, taking any rush-hour traffic into consideration. "Then make any adjustments before you need to be there at a specific time," she says.


Don't be afraid to take a day off. You don't have to bike to work every day, so if the weather makes you nervous or if you just don't feel like it, take a day off! Being a part-time bike commuter still does great things for your mind and body.
Continued ›
Article created on: 4/19/2011