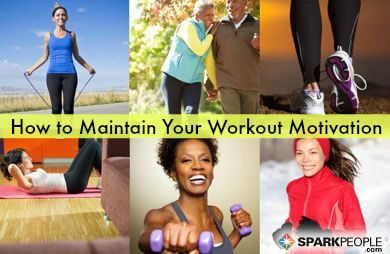 When you first start a new fitness routine, you are energized and your motivation levels are at an all-time high. But over time, that motivation begins to wane and what used to seem easy to do (popping in that workout DVD, heading out for a walk or getting to the gym) is now like pulling teeth. Can you relate?

While eating right and cutting excess calories can help you lose weight, working out is an integral part to making sure that you maintain lean muscle mass, flood your body with those important feel-good endorphins, and improve your overall cardiovascular health. Regular exercise can also help you lose weight since it burns calories and fat.

So, if you're thinking of skipping a few workouts—don't! Just follow these motivational tips to keep your body moving today, tomorrow, next month—and beyond!

Motivation Tips to Work Out Today
Get dressed. Sometimes the simple act of putting on your workout clothes and running shoes is the best remedy to change your mind from "I want to lie around and watch TV" to "I'm psyched to hit the gym!" Think of athletes getting ready for a big event, or a successful businessperson getting ready for an important meeting. They dress for success, wearing the appropriate clothing to get in the mindset. While every workout may not be a life-changing experience, borrow this idea for motivation. As soon as the workout clothes go on, your mind should go into exercise mode. And if you've just come home from a long day at work, kicking off your dress shoes and putting on your running shoes can put some serious pep in your step!

Brush your teeth. Although researchers aren't sure why, peppermint seems to have an energizing, wake-up effect on most of us. If you're having problems getting up and going for your morning walk, just pop a small piece of peppermint or brush your teeth! This will waken up the senses and get you feeling energized in no time. It's also been hypothesized that peppermint can combat cravings, so when you combine regular workouts with fewer cravings, it's a win-win!

Do 20 jumping jacks. The hardest part of getting started in a workout is, well, getting started! So instead of setting a daunting goal of a 60-minute cardio session, start small. Promise yourself that you just have to do five or 10 minutes. Or, start off with something easy and manageable such as 20 jumping jacks. Once you get going, you'll forget why it was so hard to get started in the first place.

Pump up the jams. When you're in the mood to exercise, playing a pump-you-up song can do wonders to change your mindset! In fact, a study by the North American Association for the Study of Obesity found that women are more likely to stick to an exercise program if they listen to music while working out—especially if they like the music. But don't just listen to music during your workouts—listen before you exercise to reap the energizing benefits. Play your favorite tracks while you're getting ready or driving to the gym. It will get you pumped!
Continued ›
Article created on: 1/11/2011