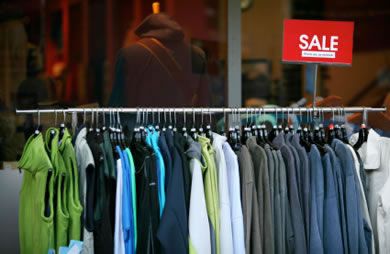 If you ever stared at your closet full of clothes and thought, "I have nothing to wear," imagine how Amanda McQueen, a 28-year-old from Alabama, felt during her weight loss journey. "I've lost 115 pounds in total. I started at 260 pounds and a size 22, and now I'm at 145 pounds and a size 8," she says. "I've gone through five or six wardrobes in the weight-loss process."

If it weren't for her smart shopping tactics, Amanda could've burned through her checking account faster than she burned away the fat. Instead of going wild with her credit card, Amanda purchased clothes that would last through several sizes and shopped at second-hand stores. Now in maintenance mode, she focuses on buying quality essentials, like the little black dress, that works well for many situations. "Never in my wildest dreams did I believe I'd be a size 8," she admits. "I'm still working on rebuilding my wardrobe for good!"

Lose Weight, Save Dough
For Marisa Gizzio, a 42-year-old who lost 65 pounds, buying new clothes was an important emotional milestone in her weight-loss process. "It makes you feel good about yourself to wear something that fits you well," she points out. "It doesn't have to be expensive – just treat yourself to a nice fitting outfit because you are worth it and deserve it!"

To reward yourself for your healthy weight loss, save some cash for each pound you lose. "It is such a great motivation," notes Beth Klein, who saved $5 for each of the 55 pounds she lost in the last year. "It was so exciting for me to see the jar of money get more and more full, and was great to have it there when I really needed new clothes."

Don't be tempted to rush into a pricey department store. To save at name-brand stores, sign up for their e-mail blasts to get coupons and take advantage of seasonal sales. Alternatively, spend some time browsing the racks at discount chains like Marshall's, TJ Maxx, and Ross, to get more bang for your buck.

If you love to hunt for a good deal, second-hand stores or thrift shops are another excellent option. "I shopped at Goodwill a lot, especially during the early stages of my weight loss," says Marisa. "Believe it or not, I got some really nice, name-brand pants/shirts (like Ann Taylor, Banana Republic, Gap, and Old Navy). At $3 per pair of pants and $2 per shirt, I could shop away and not feel guilty about spending clothes that weren't going to fit in a few months." Additionally, try asking your family and friends if they have any gently-worn items they'd like to donate to your new wardrobe. Marisa's mom cleaned out her own closet and donated many essentials to her daughter.

Continued ›