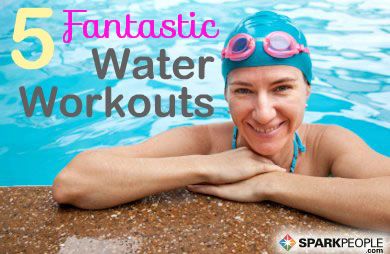 The pool can be a scary place. You have to wear a swimsuit (ack!), get your hair wet and know the rules of the road—er, swim lanes. But don't let that stop you! Water provides an excellent workout, especially for people with joint issues or for those who don't like the wear and tear of high-impact activities such as jogging. In fact, for many, the pool is a quiet and peaceful respite from the music-pumping cardio and strength areas of a health club. In the pool, you can get a good workout and truly get away at the same time. Another bonus? When you're in the water, you don't even notice that you're sweating!

Water is particularly forgiving for those who are overweight or have musculoskeletal issues. It not only reduces gravity's effect on the body, but its buoyancy also cushions stiff joints and fragile bones, making it perfect for older adults, those suffering from arthritis and other disabilities, and those carrying extra weight. Even athletes use water workouts to rehabilitate after an injury or to cross-train, as it relieves pain and stiffness. And the more you submerge yourself in the water, the more buoyancy the water has, so you can customize your workout to your needs. When you're in the water up to your waist, your body bears just half of its weight; when it's up to your chest only 25 percent; and when you're up to your neck, 10 percent. Individuals with asthma may also prefer indoor pools because the warm, humid air can be easier on the lungs.

When it comes to general health, swimming is definitely a beneficial exercise. A 2004 study at Indiana University found that long-term swimmers older than 40 who swam more than four times a week showed fewer signs of aging than the general population. The regular swimmers also had lower blood pressure, blood triglycerides, and cholesterol; better pulmonary (lung) function; and more muscle mass than non-swimmers. And swimming is truly a full-body workout, working your upper body, lower body, and core, all while getting your heart rate up. Because swimming isn't a weight-bearing exercise, most research shows that you won't build bone density from regular trips to the pool, but you will build strength. Water provides 12 times the resistance of air!

Sounds pretty good, right? Well there are a couple of cons to consider. If your pool has chlorine in it, it can reduce air quality and be hard on your lungs. Chlorine can also cause skin and eye irritation for some, especially if chlorine levels are low and there's urine and sweat in the pool (a gross but common occurrence). Additionally, although chlorine kills most germs that cause skin rashes and swimmer's ear, it doesn't kill everything on contact. Chlorine takes longer to kill diarrhea-causing cryptosporidium. (Another big yuck.)

Another cause of concern is that swimming may adversely affect your appetite. Although research here is mixed, some studies show that swimming increases appetite in certain people, which can make weight-loss difficult. Additionally, when you swim, your heart rate responds differently than when you're on land. In fact, even though you may feel like you're working hard, your heart rate in the water can be about 17 beats per minute lower than it would be for a similar intensity on land. For this reason, measuring exercise intensity using the Rate of Perceived Exertion (RPE) is a safer bet than monitoring your heart rate.

Despite the cons, water is the choice workout for many, and if you enjoy it, chances are that you'll stick with it—and that's a good thing. You're not limited to swimming either: There are a range of activities that you can do in the water, giving you both the variety to prevent boredom and the versatility to work with any goal you have, no matter where you are on your fitness and weight-loss journey. Below are five ways to jump in the pool and burn some calories while having—dare I say it?—fun!
Continued ›
Article created on: 6/8/2010