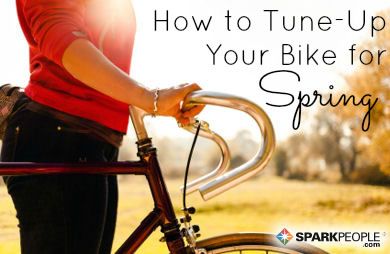 It's no secret that the modern bicycle is a versatile machine, offering options for transportation, recreation, fitness, competition and employment. Cycling provides a host of health benefits, including improved cardiovascular functioning, leg strength, balance and coordination, plus improvements in mood. Biking can also help with weight management. For those living in seasonal climates, our bicycles typically lie dormant during the cold winter months and resurface in spring. But before you head outside for your first ride of the season, spend some time getting your bike ready for the road. These basic bike maintenance tips will help ensure a safe, efficient ride all season.



7 Steps for a Spring Tune Up

Before you think about taking your bike for a spin, make sure you give it a thorough tune-up. Don't worry; most of these checks are easy to administer. If you don't want to get your hands dirty, have a bike shop tune your bike (cost is approximately $30-65).

Tune-up task #1: Clean your bike.
A clean bike extends the life of all its components, just as a clean car lasts longer.

What to do: Use a basic biodegradable cleaner such as Simple Green, a towel and an old toothbrush to clean everything: the frame, chain, chain rings, cassette, derailleurs, pedals, brakes, and seat. Make an effort to use as little water as possible. Also, remove the seat post (the tube connected to your seat that slides into the frame) and after cleaning it, and add a small amount of bicycle grease before reattaching it. This grease will last longer than oil, which dries out faster, and will also act as a barrier against rust in the seat tube.

Tune-up task #2: Inspect your brake system.
Brakes are a vital component of all bikes because they provide control over the speed you travel. Controlling speed reduces the likelihood of being in an accident. Brakes also permit the cyclist to maneuver while turning, riding up and down hills and avoiding debris or other obstacles.

What to do: First, check the brake pads, the rectangular rubberized component that actually rubs against the metal tire rim. Just like the brakes in your car, bicycle brakes wear down over time and need to be replaced. Use a flashlight to assess if the pads are wearing evenly. If you notice a ridge or other uneven wear pattern, you may need to have your brakes adjusted. Replace the pads if they show excessive wear. Next, squeeze the brake lever on your handlebars and watch the brake pads. They should hit the rim at the same time. If they don't, you can adjust your brakes with the brake arm tension screw, which is located on one of the brake lever arms near the tire. If you notice too much slack in the cable when pulling your brakes, roll out the barrel adjuster at the end of the lever (where the cable enters the housing) to add tension to the brake cable, thereby making the brakes react more quickly.

Continued ›
Article created on: 4/6/2010