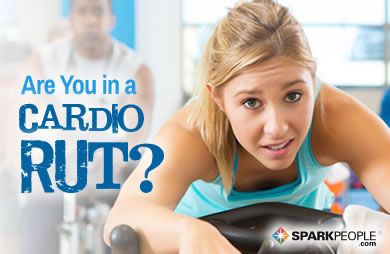 Are you bored with your cardio workout? Do you yawn when thinking of getting on the stationary bike again? Are you already dreading the stair stepper workout that you have scheduled for tomorrow morning? If you answered "yes" to any of these questions, then you're quite likely in a rut, and when you're in a rut, it's easy to fall off the fitness wagon because motivation and excitement are G-O-N-E.

So how do you get your aerobic mojo back? You shake things up! You try new activities and refocus your workouts so that they're more exciting and motivating than ever. We all know how important cardiovascular exercise is for health and weight loss (plus it just makes you feel good), so read on for six surefire ways to break out of the cardio rut now and forever!

Change Your Sound of Music

New tunes: Investing in a couple of new CDs or MP3s is an easy way to bust out of your cardio rut and get you happily moving. When you have your headphones on, no one else knows what tunes you're playing (unless you're listening too loudly, in which case turn it down some so that you don't harm your hearing!), so play whatever you want! Guilty pleasure songs (think Britney Spears, Journey or Kenny G) work great here, but, really, go with any songs that get you going and make you feel good. Studies have shown that music is motivating, but if you're bored at the gym, it may be time to shake that playlist up! For ideas, read Coach Nicole's music blogs at dailySpark.com for ideas.

-OR-

No tunes: If new music isn't doing it for you, try doing your workout sans tunes. Especially when walking or running outside, listening to your own breathing and the sounds and sights around you can be an incredibly meditative experience that can turn your cardio from boring to darn near spiritual. And if quiet isn't your thing, try downloading a podcast or an audio book. You can get through your to-read list and get in shape. Now that's multitasking.
Change Your Equipment
Try a new piece of equipment: If you and the stair stepper are in a serious relationship, but you're bored out of your gourd, it may be time to see other machines. Date around some. Check out the treadmill, recumbent bike or elliptical you've had your eyes on. All of the different pieces of cardio equipment help train the most important muscle of your body—your heart—but they each do it in a slightly different way. To check them all out yet not get too bored, do 10 minutes on each type of cardio equipment that your health club offers. If you're working out at home, jump off your machine after a few minutes and do some jumping jacks or lunges to mix things up.

-OR-

Try a new brand of equipment: You may think that all ellipticals and stationary bikes are the same, but different brands do have different feels and features. If your health club offers varieties of equipment, trade your normal treadmill for another one and discover what new programs and features you've been missing. You just might find a new love (or, even better, a new challenge).
Continued ›
Article created on: 3/16/2010