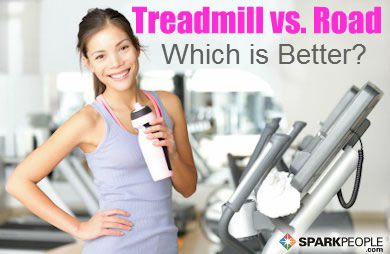 When it comes to running (and walking), you have two types of people: those who adore the outdoors and those who would rather have their try at the treadmill. I've heard countless reasons from each type of runner on exactly why they choose to run indoors or out, but for the newbie runner, it can be confusing. Which is better? Is there really a big difference between the treadmill and the sidewalk? Which offers a higher calorie burn? What are the pros and cons of each option?

In order to clear up confusion and settle this debate once and for all, we're pitting treadmill running vs. outdoor running. In this head-to-head match, we'll rate indoor and outdoor running's pros and cons on different and important variables. Read on to find out which type of running reigns supreme for you!



Surface

On the treadmill, you run on one surface: the treadmill belt. This is good because it's flat and has some give for your knees, as long as the belt is properly waxed and cared for. On the other hand, the treadmill is flat and, even with an incline, doesn't give your muscles the same variability or challenge that you'd get outside.

Running outside gives you greater variability and challenge because of the changes in terrain and slope, but if you're running on the cement sidewalks or asphalt, running can be very jarring on your knees and joints. When it's wet or icy, it can also be quite risky. Running on a trail or track is best on your body for outdoor running, but depending on where you live, may not be available.

Tips: For those with bad knees, the treadmill or a cushioned running track is probably best. And for those who love the treadmill, don't forget to use that incline button every once in awhile to add some hills into your workout.
Climate

When you run on a treadmill, you pretty much know that the temperature is going to be in the upper 60s or lower 70s. You know what to wear to regulate your body temperature, and there's no wind, rain, snow to battle. But treadmill runners miss out on the sunshine (and the vitamin D it provides) and outdoor experience that so many people crave.

When the weather is a perfect 68 degrees and the sun is shining, it's hard to imagine wanting to run indoors. But when it's dark, cold, rainy or windy, the weather can really play a factor in your comfort level, performance and safety. In the winter, if you're not properly prepared, you can get frostbite, get dehydrated, slip and fall on ice, or even pull a muscle and be stranded miles away from home. Extreme heat also has its risks. And for people suffering from seasonal allergies, outdoor exercise isn't even an option sometimes.

Continued ›
Article created on: 2/23/2010