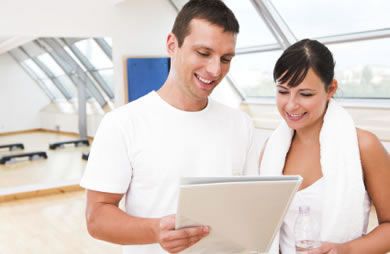 You already know how personal trainers help you reach your goals and push you to the next level, whether you're a beginner or a seasoned exerciser. You probably also know a little about how to choose the right trainer with the proper qualifications. However, how do you find the absolute best trainer for you and your goals?

I'm about to share a secret with you: Not every personal trainer—no matter how fabulous or talented he or she is—is going to be right for you. You may be dazzled by proven results, certifications and background, but by asking just seven questions, you can tap into exactly whom the personal trainer is and whether he or she will gel with you. Approach it as if you're in human resources and hiring for a big position in a big company. After all, you're pretty darn important, and you're handing over a big piece of your life here. When meeting with a personal trainer for the first time, most people ask solid basic questions, but these less traditional and less conventional questions really give you a sense as to why the personal trainer has chosen his or her career and what he or she can do for you. Read on to learn what questions to ask to find YOUR best trainer!

1. How do you stay in shape? Most personal trainers will train themselves similarly to how they'll train you. If they love to run, then they'll probably suggest that you run, too, as long as you're able. If they swear by daily yoga to stay fit, then they'll most likely suggest that you try yoga. Although this question doesn't guarantee what type of exercises they might have you do in a personal-training session, it does provide a window into their workout soul.

2. What's your fitness philosophy? A personal trainer should—without hesitation—be able to tell you exactly what he believes when it comes to fitness. Does he train his clients for better health? To improve body confidence? To show off a six-pack? This question really gets into what makes a personal trainer tick and will let you know better what goals the trainer will have in mind for you to set and achieve.

3. Do you recommend supplements? Although healthy eating is key to losing weight and getting in shape, personal trainers are not registered dietitians, and therefore should never give out specific nutritional advice such as meal plans or supplement recommendations beyond a multivitamin. When you ask this question, if a personal trainer starts going on and on about what supplements (or worse, diet pills) he or she uses and recommends to her clients, beware. It is outside of a personal trainer's scope of practice to give specific dietary recommendations.

Continued ›
Article created on: 8/18/2009