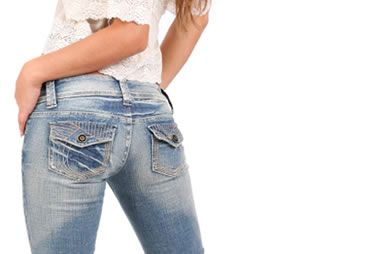 Current economic conditions mean that money is tight; however, can the same be said for your rear end? Don't let your sagging stock portfolio be an excuse for skipping workouts this year, especially those targeting your bum. Learn how to tighten your assets with a moderate investment of time—and no gym membership fees!

Anatomy of the Glutes
Arguably the strongest muscle in the body, the gluteus maximus is one of the most conspicuous parts of the muscular system, connected as it is with the power of keeping your trunk in an upright position. The gluteus maximus allows your leg to extend behind you and permits outward rotation of the femur (thigh bone). It is the primary gluteal muscle involved in cycling, jumping rope, squatting, climbing stairs and running. It is also the largest of the three gluteal muscles that make up our buttocks—the other two being the gluteus medius (located at the superior and outer portion of the buttocks) and gluteus minimus (located underneath the gluteus maximus), named so for their size.

Factors that Affect Size and Shape
Whether you want it to be larger, smaller or rounder, the overall shape of your butt depends on three primarily factors:
The size of our gluteus maximus muscle. Remember that muscle mass is lean and doesn't take up a lot of space. Strengthening your glutes can improve muscle tone and result in a tighter, firmer appearance.

How much fat lies on top of that muscle. As with any muscle group, it is not possible to selectively "spot reduce" this layer of fat from the buttocks. (That means all the donkey kicks in the world won't burn away butt fat.) However, all types of cardio exercise will help reduce your overall body fat.

Genetic factors. Individuals are genetically predisposed to store fat in specific regions of their body—one of these regions is the buttocks. This is especially true for women, which is why women tend to have larger and rounder rear ends (often associated with femininity) than men. Genes also play a role in the shape of your butt. Genetics mostly determine whether your rear is heart-shaped, bubble, pear-shaped, or flat. While you can slightly change your overall composition of body fat and muscle mass, you'll probably always have the same shape, just larger or smaller depending on changes in your body fat and muscle tone.
Continued ›
Article created on: 2/25/2009