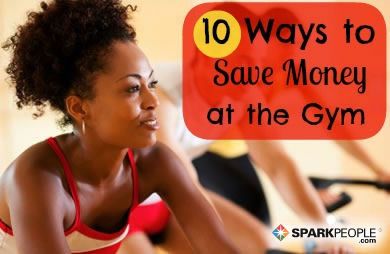 Joining a gym is not a decision you should take lightly—especially since it affects your wallet. Fitness centers come in all shapes, sizes and price ranges, offering everything from basic workout equipment to upgrades like massages, tanning, and even laundry service! But most of us are pinching our pennies and stretching our dollars these days, so you may think that a gym membership is unaffordable. Don't throw in the (sweaty) towel just yet! I have some money-saving ideas that will help your cut your membership costs. As a trainer and wellness coordinator, I spent several years working in public and private fitness centers, so I know all the secrets! Here are 10 insider tips to getting a good deal while keeping a little more money in your pocket!

Shop during the Slow Season
When looking to purchase a membership, consider the time of year. Thanks to New Year's resolutions, gift certificates, and renewed resolve, the first few months of the year are the busiest—and best—times to be a membership director. Similarly, the colder months are also busier than warmer months because people can't exercise outside. Because they're selling so many memberships, gyms don't need your money and they're less likely to cut you a deal. But the opposite is also true: Membership slides during the summer and toward the end of the year, so that is the best time to make your move. Look for specials and discounts at this time, and don't be afraid to ask for a better deal.

Join at the End of the Month
Gyms and fitness centers typically have membership goals for each month. They want to gain new members and retain the ones they have. At the first of the month, these sales goals don't seem as daunting to employees as they do in the last week of the month. So go at the end of the month, when most gyms are willing to make a deal with you so they can hit their goals!

Check Out the Competition
In most cities, there is more than one game in town, so shop around to find out what each gym has to offer. Once you have narrowed the list down to the places you like, go to each gym and speak to the individual responsible for memberships. Explain what you want and what you've seen at the other gyms you visited. (Make sure you are looking at comparable facilities when you do this.) If there is a difference in price, ask if they would meet or beat the monthly fees of their competitors. If they cannot beat the monthly fee, find out what they are willing to offer you instead. Don't do this over the phone. When you meet in person, it will be more difficult for them to watch you walk out if you can't strike a deal.

Continued ›
Article created on: 1/13/2009