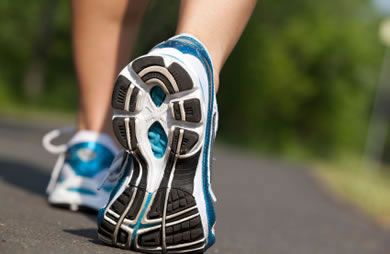 Terrah (TERRAHNE) was just 22 years old and felt self-conscious about being overweight. Over the years, she tried all sorts of diets and programs to lose weight, but wasn't successful. At 223 pounds, she joined SparkPeople, got off the couch and started walking. After 18 months, she has lost 73 pounds and reached a healthy weight. Her inspiring story of walking for weight loss even landed her on the cover of a 2008 issue of a national magazine! Here's how she did it.


| | |
| --- | --- |
| Terrah Before | Terrah After |
| | |

How did walking help you reach your goals?
Walking has changed my life! Walking was (and still is) my main form of exercise. When I started I could only walk one mile at a time. Fast forward 18 months, and I'm walking up to five miles a day! But for me, walking alone wasn't enough to lose weight. It wasn't until I started tracking all of my exercise and my food intake on SparkPeople.com that I was able to see results.

What other exercises do you do besides walking?
I just started doing Turbo Jam DVDs and I love it! It is definitely one of the best workouts I have ever tried. So I would definitely recommend giving it a shot. As far as my "lifestyle change" goes, I try to make sure I stay within my calories six days a week. I do allow myself one cheat meal each week. It keeps me from feeling deprived.

How do you keep your walks fun and interesting?
I always walk with my iPod so that I can listen to my favorite music. It keeps me motivated and energized during my workouts, no matter where I'm walking. I also do a little bit of running to change things up. Walking in a nice setting also motivates me. I like to walk in a beautiful park near my house.

How much walking do you currently do?
I started walking just 1 mile at a time—and that was hard. But I gradually increased my mileage as I got more fit. Now I usually walk between 2 and 5 miles, at least 4 to 5 days a week.

What tips would you give someone just starting a walking program?
My best tip would be to keep your walking shoes in your car. That way, you can easily go straight to the gym, park, or trail without going home to change. I found that when I have to go home first, I'm more likely to make excuses and miss my walk than if I walk right after work. Just keep it up and you will see wonderful results!

Continued ›