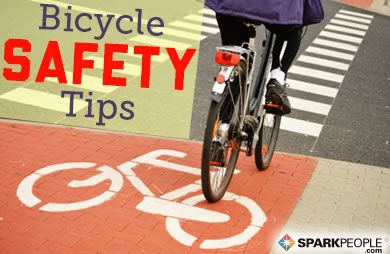 Whether you want to cut down on pollution or you want to get in shape, riding a bike is a great way to get around. But your trip could end in tragedy if you don't ride safely. Just like driving a vehicle on the road, cyclists must observe what's around them at all times and make sure that other drivers see them too. Here are some safety tips and guidelines to help ensure your ride goes smoothly.

Safety starts before you even mount your bike. Before you ride:
Check to make sure that all parts are secured and in working order each time you ride.
Examine your wheels to check the tire pressure and inflate to recommended maximum pressure—look for damage and tread wear.
Keep spokes tight and replace broken ones promptly.
Examine the brake pads, cables and housings to ensure that all brake pads open and close together smoothly.
Next, check the chain for damaged links and keep the chain clean and well lubricated.
Once you have completed your safety check, take a slow ride in an area free of traffic to ensure that the bike is functioning properly and lightly bounce the bike on the ground while you listen for any loose parts that may need attention.

For maximum safety, outfit your bike with a bell, front and back reflectors, rear-view mirrors, fenders (for rainy rides) and a rack, basket or bike bag to help you carry items without taking your hands off the handlebars. Some municipalities will fine you if your bike is not equipped with a bell or other safety features so check your local bylaws before hitting the road.

Rules of the Road
Although they are not motorized, bicycles are considered vehicles, so you must know all traffic laws and safety hand signals, which tell motorists what you intend to do. Always signal with your left hand at least 100 feet before you turn but keep both hands on the handlebars as you make the actual turn.

Left turn: Extend your left arm straight out to your side (horizontally).
Right turn: With your elbow bent, hold your arm up in an "L" shape. (An alternative, but less common, right turn signal is to extend your right arm straight out to your side.)
Stop or sudden slow down: With your elbow bent, hold your arm down in an upside-down "L" shape.
Competing with heavy traffic is always dangerous, so take less traveled routes whenever possible and follow designated bike paths when available. Ride on the right side of the street in a straight line, in single file with other bike riders. Drive near the curb in the same direction as traffic but stay about a car door's width away from parked cars in case someone tries to exit the vehicle in front of you suddenly. Keep your bike steady and ride in a predictable, straight line—never weave from lane to lane which forces drivers to guess what your next move might be.

Continued ›