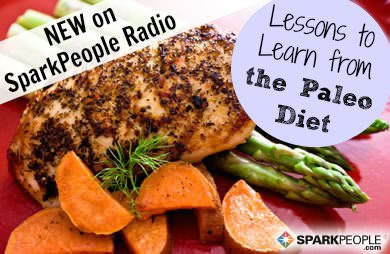 Editor's Note: If you haven't checked out SparkPeople Radio, now's the time! We've been on the air since November, and this on-demand show is a hit. Each week, hosts Lily Hills and Karen Hudson share the latest and greatest stories to help you become healthier and happier, with interviews from SparkPeople members and experts.

We launch a new show each Tuesday morning, but this radio show is available anytime, anywhere--and you can listen to all the episodes whenever you want. No matter where you live (even outside of the US), you can always tune in to SparkPeople Radio! Plus, you get SparkPoints for tuning in. (Find details at the end of this blog or at www.sparkpeople.com/radio)

P90X Founder Spills Secrets
P90X fans, you won't want to miss segment about the workout's creator, Tony Horton! In addition to his must-have breakfast, hear how yoga saved his life--and just how broke he was before P90X took off.

Aley Brown Interview
Aley Brown is down 90 pounds, thanks to SparkPeople. Find out how this 21-year-old did it--while balancing a hefty college class load.
Posted 9/24/2013 12:00:00 PM By: : 4 comments 9,392 views
Read More ›
In this week's episode of SparkPeople Radio, listen a roundup of the week's healthy news, then hear how Denise lost 100 pounds and kept it off. Learn why one marathon is considering banning mobile phones, and find out how being a Browns or a Ravens fan can affect your waistline. Plus: We'll countdown the top 7 ways we know you'll fail at weight loss. Read on for more info or click here to listen now!

Posted 9/4/2013 12:00:00 AM By: : 2 comments 7,163 views
Read More ›