Don't let gray skies and cold weather get you down. Breathe new life into your home with Winter's harvest. My farm box this week contained apples, lemons, oranges, radishes, leafy greens, cauliflower, and squash, which are incredibly versatile ingredients for savory Winter soups, stews and baked dishes. These ingredients add depth and texture to your cooking and are good for you too. So, pick up some Winter produce and get started today with SparkRecipes best Winter Harvest Recipes.
Read More ›
Even though summertime is the season for backyard barbeques and treats at the local creamy whip (my favorite!), I find that I'm not as hungry when the temperature rises. Maybe it's just that I don't like that heavy, full feeling when it's hot and sticky outside. Maybe it's that I'm busy chasing the kids around the yard and don't have as much time to think about food. Or maybe it's that my brain is hardwired to increase my appetite when the weather turns colder. Research shows that when the days get shorter and darker, our appetites tend to increase.
Read More ›
As a child I remember seeing in my Grandmother's kitchen an odd-shaped red fruit with succulent red seeds. It was so eye catching that I wasn't sure I wanted to spoil it by eating it. As an adult, I've fallen in love with these decadent and festive pomegranates, especially since they're also super healthy: Pomegranates are abundant sources of vitamin C, potassium, folic acid and fiber. Scientists have also found that they are loaded with antioxidants that can help fight heart disease, cancer and the battle with aging. The biggest challenge is how to actually get into the fruit. Tanya, a SparkPeople Healthy Eating Expert, wrote a great nutritional overview and step by step instructions on how to dig in to a
pomegranate
. Fuel your body with one of the healthiest winter fruits by preparing these top 10 SparkRecipes that use Pomegranate as an ingredient.
Read More ›
As I walked my kids to school today, I noticed that the leaves on the trees are beginning to change colors already. It reminds me that cooler temperatures and shorter days are coming and that I need to plan my strategy for exercise and healthy eating during these cooler and stormier months. There are several factors that I must take into consideration: how to get exercise when my kids, my work, the weather, and the flu season keep me from the gym. Our friends at Clorox recently shared some great tips that will help us all make healthy living a reality during the upcoming fall and winter seasons. I incorporated their tips into some of my own.
Read More ›
I used to think that my exercise routine was unaffected by the weather. In the summer, I'd make accommodations to deal with the heat (exercising outside in the evening or early morning, shortening workouts, drinking more water, etc.) In the winter, I'd add a few extra layers and head out to battle the elements. After about two weeks of a big change in temperature, my body got used to it and it was no big deal. I can't say I love running in a sauna or a blizzard, but those things never kept me from activity- until this year.
Read More ›
With much of the country experiencing an unseasonable amount of snow this winter many of us are finding ourselves digging out the snow shovel to clear our paths. But we must be mindful that while snow shoveling can give one quite a workout,it does come with
some risks
, as well as benefits. According to the 1996
Surgeon General's Report on Physical Activity and Health
, just 15 minutes of snow shoveling counts as a moderate intensity activity. It is important to note that taking proper safety measures before heading outside is imperative in keeping you healthy and injury free.
Read More ›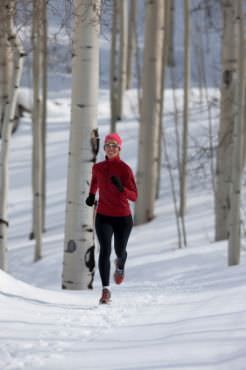 I never learned to ski or snowboard. I've never been tubing or snowmobiling. And not once have I donned snowshoes, ice skates (as an adult anyway) or cross-country skis. Why? Because I have always hated winter. I'm cold when it's 75 degrees out, so just imagine how I feel when it's in the teens! "I don't want to be outdoors in the winter unless I have to be," I'd think. As a result, I've missed out on a lot of the events above…but at least I could always feel my toes.
When I became serious about running over the last year and a half, I knew that
running outdoors in the winter
would be a must. And happily, it has become something that I look forward to! I actually enjoy the winter and tolerate the cold so much more now that I am a runner; sloshing through all kinds of elements and pushing through dropping temperatures for mile after mile puts the walk from the car to the office into perspective. Running in the winter has taught me to appreciate the cold, ice and snow, and I'm thankful for that. But the key to
enjoying an outdoor workout in the winter
isn't an attitude adjustment (although that has been part of it): It's all about the clothes.
When you wear the right apparel and
layer properly
, there is nothing uncomfortable about heading outdoors to work out. I've ran in snow, single digits, cold rain (not that I recommend it), and never once suffered for it. And I attribute a whole lot of my comfort and ability to withstand the cold to a single piece of apparel…
Read More ›
Last year, I finally experienced something that many runners before me had discovered: a love of running.
It didn't happen overnight
and it was something that I never expected, but over time, running morphed from something I "should" do into something that I wanted to do.
That said, this is the first winter that I am running outdoors and making every effort to stick with my routine, even though the rain, snow and dropping temperatures are doing their best to keep me from it. Until recently, I hadn't exercised outside in any temperatures colder than 20 degrees.
Last Monday, I checked the Tuesday morning weather report to see what I was up against. It wasn't pretty: 17 degrees and snow. But more importantly, the weather website predicted that it would "feel like" 8 degrees outside. Yikes!
I laid out my gear (reflective vest, fleece gloves and headband, iPod, Garmin, the works), layered up and
went to bed in my workout clothes
that night. I wasn't fully committed to the next day's workout. After all, I
do not like mornings
, winter or snow, so the odds of me being successful were stacked against me.
Read More ›
Vitamin D research and information is in the news everywhere these days. One of the most shocking results came from
a nationwide study
in the U.S. that found about 9 percent of the children were vitamin D deficient but 61 percent of them were vitamin D insufficient. Conversations are also ongoing related to how much vitamin D is enough. Last week an Institute of Medicine committee held meetings in Washington D.C. to review dietary reference intake recommendations for vitamin D and calcium. Some preliminary reports imply the recommendation will go up because of the overwhelming information that suggests a high level of insufficiency is present in both children as well as adults.
Hearing about a need for vitamin D for bone health is not new. Information related to the benefits of adequate vitamin D to reduce risks of heart disease or improve inflammation is also not new. What may be new in vitamin D research is the investigation of a relationship between
vitamin D levels and a potential role in reducing risks for influenza
, especially when the H1N1 pandemic is looming. This may provide a new reason to take your vitamin D intake a little more seriously this fall and winter.
Read More ›
Winter is in full swing, and even though
I like January for other reasons
, I can't stand the winter. I live in the Midwest, where we get our share of snow, ice, and below-freezing temperatures. And every season, I think to myself, "Who would ever choose to live in a place that gets this cold?"
The lack of sunshine depresses my mood. It makes me want to sleep for 10 or 12 hours a night, after which I still feel tired. Don't even get me started on my motivation to work out. In the spring and summer, the bright sunlight peers through my shades and wakes me up before my alarm, luring me outside for a morning run with a smile on my face. But the dreary days of winter really mess with my will power and energy levels. Yes, even I can lack the motivation to work out this time of year. I'm sure that I'm not the only one who struggles. So I want to know:
How do you stay motivated to work out during the winter?
Read More ›