All Entries For
valentine's day
Chances are good that you'll encounter chocolate at some point today. Chocolate has earned a bad rap as a guilty pleasure, but this superfood has some pretty amazing health benefits. We think you should feel good about eating chocolate--the dark variety, in moderate portions. Here's why:
1. Chocolate contains more than 300 chemicals, including
phenyethylamine
, an amphetamine-like substance that
simulates the feeling of falling in love
. Is there any more appropriate day than today to eat a treat that makes you feel like you're in love?
2. If you're feeling a bit glum,
chocolate can boost your spirits and dull your pain
, thanks to
b-endorphin
, a naturally occurring chemical similar to opium.
Read More ›
This no-cook treat is a quick way to satisfy a craving for chocolate and cheesecake. We think it's perfect for Valentine's Day! With just four ingredients and five minutes of prep time, you'll love this not-too-sweet treat.
We used Nabisco chocolate wafer cookies. You want a very thin cookie, but you could also try a chocolate graham cracker (1 sheet=4 tarts). You could swap in your favorite fruit (such as blueberries or even kiwi) for the raspberries.
Read More ›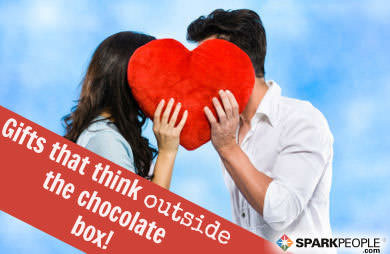 Valentine's Day is just two days away! Although television and radio commercials might try to convince you otherwise, there are plenty of ways to celebrate your love for your partner besides the typical fancy dinner date or box of chocolate. And--let's face it—the traditional ways of celebrating the annual day of love can be expensive, high in calories and often overdone (dinner and a movie
again
?). Here are some alternative ways to celebrate your love with your significant other on Valentine's Day, or any other day throughout the year!
Get a new photo taken of the two of you together. It may have been a while since you last had a photo taken with just the two of you. Whether you have a professional photographer or a friend take your photo, it's always great to have more pictures to document your time together.

Recreate your first date or another memorable date. This can be fun and romantic, especially for couples that have been together for a long time! It's a great way to reflect on how much has changed (and how much has stayed the same!) since you first got together.

Read More ›
Whether you're single, taken, or somewhere in-between this Valentine's Day, one thing is for certain: You're bound to be bombarded with chocolate. From the office candy jar, to the red and pink display in the grocery store, there's no escaping decadent truffles, chocolate-covered strawberries, and other pretty, sugary delights. The good news is that it you can
have your chocolate and eat it, too
, as long as you know what to choose! If you had a choice between
three pieces of Godiva chocolate
or
five Hershey's Kisses
, which would be the slimmer pick?
Read More ›
I'm a perfectionist, and I don't like to trouble other people with my problems. As a result, I'm sometimes quite hard on myself. Recently, I found myself in quite a jam, and I had no choice but to call a friend for help. I braced myself for her reaction. Rather than judge me, she was gentle and kind.
Her generosity, compassion and kindness were a wake-up call to me. I was shocked--not by her behavior, but by my reaction. And I vowed to go easier on myself.
A few nights later, I was reading the Pema Chodron book "
Comfortable with Uncertainty: 108 Teachings on Cultivating Fearlessness and Compassion
." I seem to stumble upon Pema's teachings when I am most in need of guidance. That night I reread teaching #15,
Not Causing Harm
. This excerpt is what seemed prophetic:"It's a lifetime's journey to relate honestly to the immediacy of our experience and to
respect ourselves not to judge it
. As we become more wholehearted in this journey of
gentle honesty
, it comes as a shock to realize how much we've blinded ourselves to the ways in which we cause harm." (Emphasis mine.)
I read that passage several times, each time pausing to reflect on how I do this in my life. In an effort to be a more mindful person, I qualified and judged myself rather than employing gentle honesty.
Since then I've made a concerted effort to go easier on myself, to observe rather than judge my actions, and to treat myself the way my friend treated me, and the way I treat those I love: with
gentle honesty
.
As we prepare to celebrate the day that we traditionally express love to others, let us take the time to express our love for ourselves
. After all, the relationship we have with ourselves is our most valuable yet the one to which many of us devote the least amount of effort.
Read More ›
With Valentine's Day coming up, we've all been bombarded with messages about love, romance and sex for weeks already. Fortunately, this isn't another one. February may be synonymous with "relationships" but I think it's a great time to think about your relationship with yourself and different, yet still important kind of love: self-love. This is important whether you're single, coupled or something in between.
Many of our readers are working to lose weight and have battled body hatred for a long time. Many who have lost the weight expected that to change, only to later realize that body love isn't about being a certain size: It has to come from within, and you can have it no matter how you look if you just cultivate it. The truth is that we are all worthy of care, respect, love and confidence, and we can all take steps to "own" our bodies, move with confidence,
dress with style
, and not let
fear of what others may think
stop us from doing what we want to do, whether that's dancing at that upcoming wedding, joining that gym, wearing a swimsuit, or asking for that promotion.
Exercise inspires that confidence at any size. While I listen to a wide variety of songs when I work out—some with embarrassing lyrics but great beat and others with inspiring messages—I really enjoy listening to workout songs that make me feel good about myself and my body. These encourage me to keep going with my workouts, and the whole thing becomes a virtuous cycle of love and health and fitness and confidence that feeds itself.
So what are these love-your-body songs? I've got 21 that'll make you feel strong, confident and sexy during (and long after) your next workout.
Read More ›
If I could choose what to take with me to the proverbial desert island, sweet treats would be right up there on my list. One of the reasons I exercise so consistently is so that I have the option to enjoy them with family, when eating out, or for spontaneous celebrations. At the same time, I refuse to cook large quantities of desserts, mainly because I end up throwing them out to avoid temptation. One strategy I find useful is to prepare single serving desserts that satisfy the urge, but without circumventing my nutrition plan. Enjoy these fun and tasty single serving treats.
Read More ›
Nothing warms the heart like chocolate.
S'mores Pie
Makes:
12 servings
Prep:
10 minutes
Bake:
10 minutes at 375 degrees F., then 30 minutes 325 degrees F.
Broil:
1 minute
Read More ›
Today is Valentine's Day, one of the most popular days for giving, receiving and eating chocolate.
I firmly believe that chocolate has a place in a healthy diet--it sure does in mine!
It can even be a part of savory dishes
. I try to
be choosy about chocolate
: I reach for dark over milk, splurge on from-scratch baked goods, and keep my portions in check.
In addition to sharing an amazingly easy and better-for-you recipe for chocolate mousse, I'm here to answer some of your questions about chocolate. We'll get to the questions later. First, let's eat!
Read More ›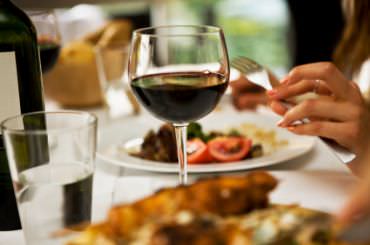 Valentine's Day is coming soon and, for me, that means chocolate and decadent dinners. Nearly every holiday has some sort of food attachment, whether it is a barbeque or turkey feast. So how can you go to these events and enjoy the yummy food without blowing everything you've worked so hard for?
Realize that a holiday or a special occasion is just one day, or maybe one week for a cruise or vacation. Many get anxiety and start eating in anticipation of the event at hand, figuring they will just blow it on the occasion anyway. This is where living in the moment really counts. Instead of letting that anxiety get you off track, focus on preparing for success before the big day comes. Getting serious about your plan before a special occasion is a great way to ramp up your esteem, make you less likely to make poor choices, and helps control potential damage.
Read More ›
Some time ago, I received a phone call from a frantic mother asking for fun and healthy treats to bring to her child's Valentine's celebration at school. She needed these snacks to taste great while also obeying the school district's wellness policy. What healthy substitute could she serve to convey the spirit of Valentine's Day while pleasing all those sugar-loving taste buds?
I let out a sigh as I experienced a quick flash-back to 1970 and thoughts of Terry, my fourth-grade crush. Anyone in my age bracket will remember the days when each child had to bring a shoebox to school to decorate with red construction paper hearts, paper doilies, and lots of glitter. This decorated box became your mailbox for all the valentines you would receive from your classmates. About two weeks before the big event, a letter was sent home from the teacher containing the name of every child in the classroom and parents were instructed to make sure that a valentine was provided for each child on the list so that no feelings would be hurt. Of course, these were also the days of "hand-made" valentines; no mass-produced, store-purchased valentines allowed. This project took days to complete as creativity and perfect penmanship were at an all-time high. A perfect valentine had to be created for each classmate to convey your true intent. Mixed messages could turn into mayhem in a classroom already charged with excessive energy and excitement.
These days, some schools do not even allow Valentine's celebrations since they cut into valuable classroom time. Other districts allow an hour of fun, but the foods distributed during party time must comply with wellness policy guidelines. I have assisted several school districts with wellness plan development, so I know a thing or two about making smart substitutions for sugary Valentine's treats.
I have put together a list of three easy-to-make, healthy treats for your child's Valentine's party-- the same three treats that I suggested to the mother on the phone years ago. They were a hit with her child's class, and hopefully you will find one to brighten up your child's Valentine's Day celebration as well. Remember, check with your child's teacher about what food allergies are present in the classroom before bringing in anything edible.
Read More ›
By Beth Donovan (~INDYGIRL)
Valentine's Day is a day on which we celebrate love. Love has many definitions. There is security love, the feeling of being cared for and nurtured. Friendship love is the kind of bond you share with a very close friend where you can be totally open and comfortable in sharing your true self. Romantic love is the kind of love that makes your heart flutter and your knees go weak when you see the person of interest. There is my favorite, unconditional love, the kind of love that endures no matter what. Self-love treats oneself to all of the above. That is in no way a comprehensive list of the types of love, just a quick list for this blog.
Today I want to talk about self-love. This Valentine's Day, I want you to dress so fine that you make your own knees go weak. If you're alone, I want you to find a close friend and make fabulous plans. If you don't have a close friend, I want you to work on building relationships and make some plans to celebrate loving yourself. If you do have a love interest, I want you to feel wonderful and enjoy the day with your treasured someone.
Read More ›
According to the Census Bureau, Americans ate 24.3 pounds of candy per capita in 2009, and at least part of that was consumed on and around Valentine's Day. With boxes of chocolate so easily accessible--and so many varieties to try (just a nibble won't hurt!)--it's easy to see how the calories and empty wrappers add up. (That could amount to more than 10 pounds of extra weight a year!)
We're here to keep you and your sweetie in tip-top shape this Valentine's Day. We surveyed members and the SparkPeople team and compiled a list of better-for-you sweet treats, including several that are either calorie-free or will
burn
calories. I present to you the good, the "bad" and the chocolate-y!
This one from ARIZONAMARY was my favorite: One year we were beyond broke. I made 50 hearts out of construction paper (see below!) & hand wrote a different reason I loved him on each heart. I got a glass jar with hearts on it from the thrift store & filled it with the hearts. Now 10 years into our marriage, he still has it... along with the hearts inside.
Read More ›
My boyfriend, Sam, loves riding his bike. He recently sold his car, and he spends much of the year training for and competing in endurance bike races. The man loves to climb mountains on two wheels, and he commutes about 26 miles a day to work, five days a week. On weekends, he's gone for hours at a time, riding along country roads in Kentucky with his teammates (he and a friend started a local cycling team, BSM).
As anyone who works out regularly knows, the more you exercise, the more you need to eat. All that time on the bike means he eats a ridiculous amount of calories each day. He eats a very clean plant-based diet, as do I.
In early December, he challenged me to create a recipe to cure his
Nutella
addiction. During race season, Nutella on a fresh baguette is his favorite treat. However, despite how delicious his beloved hazelnut-chocolate spread is, he knew it wasn't exactly healthy.
I've made
my own almond butter
for years, and I had been experimenting with a chocolate version since last spring. I even gave jars of it as gifts to my family members who have birthdays in March and April.
I was adding all sorts of ingredients: cocoa powder, sugar, coconut oil, maple syrup, even cacao nibs. They were all good, but the recipe just wasn't perfected. I kept changing the recipe and eventually stopped making it regularly. (I, too, developed a Nutella addiction over the summer! An intervention was almost needed.) Then I decided to start over. Two ingredients, 15 minutes start to finish, and better than anything you can buy at a store.
Even better: No hydrogenated oils, fewer calories, less fat and sugar--and more fiber! (You could make this with hazelnuts and it would be more like Nutella--or any other nut you like.)
Keep reading for Sam's upgrade to this recipe, plus directions and the full nutrition breakdown!
Read More ›