All Entries For
mental health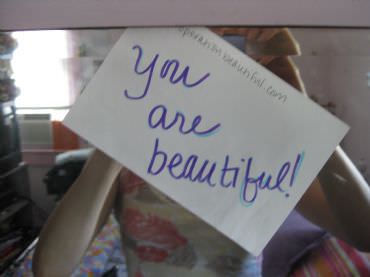 The dailySpark recently featured a new website called Operation Beautiful in the weekly link round up. Because dailySpark readers responded so positively to the post about Operation Beautiful, we asked its founder, Caitlin, to tell us a little more about it.
My name is Caitlin, and I'm 25 years old. I began
www.OperationBeautiful.com
because I believe in a holistic approach to a healthy lifestyle -- it's not just about what you eat or how you work out, but the caring and thoughtful things you do for yourself and others, too.
In 2006, I got my fitness act together and transformed my life. I live in Orlando, Florida, with my college-sweetheart husband and our two dogs, James Bond and Maggie Thatcher, and we both love living a healthy, active life. I work two jobs and am also a part-time blogger (at
www.HealthyTippingPoint.com
, which is my personal food and fitness blog, and
www.OperationBeautiful.com
.
Caitlin also took some time to answer our questions about Operation Beautiful! dailySpark: What is Operation Beautiful?
Caitlin:
Operation Beautiful is simple; all you need is a pen and a piece of paper. I've begun leaving positive messages on the mirrors of public restrooms--at work, at the gym, at the grocery store. I scribble down whatever comes to mind--"You are beautiful!" or "You are amazing just the way you are!" Now, the Operation has spread beyond me, and hundreds of other women are participating. The women write notes and send them in, and then I post them on the site for thousands of others to enjoy.
Read More ›