All Entries For
mental health
By the time you read this, I will probably be about halfway through my first week of a two- or three-week course of ECT (electroconvulsive therapy) treatment to see if this helps relieve my depression.
In two previous blogs, I had indicated both that I felt pretty uncomfortable with the idea of electric shock treatment (I was a BIG fan of
One Flew Over the Cuckooís Nest
), and that I was going to try a non-medical approach to dealing with my depression before resorting to additional biological treatments. But here I am in the hospital, getting hooked up to the ECT machine.
What has changed in the past week is the urgency of reducing the effects of this depressive episode on other things. For whatever reason, Iíve been somewhat overwhelmed the last few days with a bunch of new memories and flashbacks related to the childhood abuse I experienced for the first 13 years of my life. I donít know if the depression is reducing my capacity to keep those memories away, or whether the memories have been mucking around in my subconscious for a while and generating the depression. Maybe both. Or neither. All I really do know is whatís happening right now, which is that I canít handle all of this at once and still function in my daily lifeósomething has to give. I havenít been able to sleep for 3 days, and my anxiety level is a steady 14 on a scale of 1-10.
Trying to let the past be the past before itís too late.
Given that Iím 60 now, and that Iíve been dealing with this old childhood baggage in one way or another for my whole life, I figure Iím not going to have many more chances of getting to the bottom of it. So, my desire is to actively and directly deal with this stuff right now while itís coming up on its own, instead of trying to put the lid back on again. That means I need to get myself to the point that Iím strong enough to do thatóand that means getting through the worst of this depression as quickly and easily as possible. They tell me that ECT is the best treatment when a quick response is the goal, so Iíve decided to give it a try. And, honestly, I could do with a week in the hospital right now, with nothing much to do except cope with getting my brain zapped a few times.
Some Background Info
I used to believe that oneís psyche never gives you more than youíre ready to handle at that time, and therefore, that the appearance of new memories and feelings from the past meant that I was ready to handle whatever it was that wanted to make itself known.
Read More ›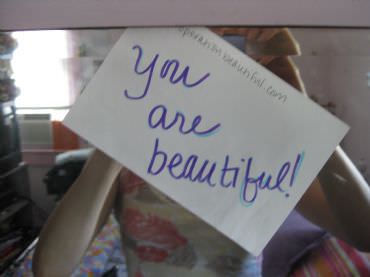 The dailySpark recently featured a new website called Operation Beautiful in the weekly link round up. Because dailySpark readers responded so positively to the post about Operation Beautiful, we asked its founder, Caitlin, to tell us a little more about it.
My name is Caitlin, and I'm 25 years old. I began
www.OperationBeautiful.com
because I believe in a holistic approach to a healthy lifestyle -- it's not just about what you eat or how you work out, but the caring and thoughtful things you do for yourself and others, too.
In 2006, I got my fitness act together and transformed my life. I live in Orlando, Florida, with my college-sweetheart husband and our two dogs, James Bond and Maggie Thatcher, and we both love living a healthy, active life. I work two jobs and am also a part-time blogger (at
www.HealthyTippingPoint.com
, which is my personal food and fitness blog, and
www.OperationBeautiful.com
.
Caitlin also took some time to answer our questions about Operation Beautiful! dailySpark: What is Operation Beautiful?
Caitlin:
Operation Beautiful is simple; all you need is a pen and a piece of paper. Iíve begun leaving positive messages on the mirrors of public restrooms--at work, at the gym, at the grocery store. I scribble down whatever comes to mind--ďYou are beautiful!Ē or ďYou are amazing just the way you are!Ē Now, the Operation has spread beyond me, and hundreds of other women are participating. The women write notes and send them in, and then I post them on the site for thousands of others to enjoy.
Read More ›