All Entries For
hungry girl
UPDATE: The link is fixed, and the giveaway will run for TWO WEEKS!
Attention, Hungry Girl fans! HG Lisa Lillien has a new book out:
Hungry Girl Supermarket Survival: Aisle by Aisle, HG-Style!
It launches next week, and we're giving away three copies!
They say:
Finally . . . a real-world guide that will help you navigate the supermarket and stock up on guilt-free foods, from mealtime must-haves to snack finds and more! It's Hungry Girl's ultimate resource for grocery-store survival---a must-own manual that makes shopping for better-for-you foods easy and fun! Inside you'll find:* HG All-Stars and grocery-store standouts! * Calorie counts and comparisons for foods in every aisle* Guilt-free meal ideas and snack solutions for every craving and situation!* Easy-to-digest info about nutrition labels and ingredient lists* HG's complete supermarket list with aisle-by-aisle food findsHungry Girl's amazingly comprehensive supermarket guide is your key to guilt-free shopping, eating, and living!
To enter, click here! Be sure to read the rules. This contest will end TWO weeks from today!
In the meantime, let's peek inside at some of Hungry Girl's essential supermarket foods!
Read More ›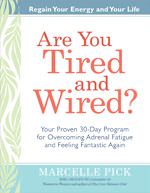 Are You Tired and Wired? Your Proven 30-Day Program for Overcoming Adrenal Fatigue and Feeling Fantastic Again
by Marcelle Pick MSN OB/GYN NP
Co-founder of Women to Women—one of the first clinics in the country devoted to providing health care for women by women—and the author of The Core Balance Diet, Pick focuses on the root cause of these symptoms: adrenal dysfunction. (Psst... we're giving away five copies of this book on Friday evening.)
Read More ›
We're big fans of Lisa Lillien, better known as
Hungry Girl
, and her guilt-free favorite food swaps. Last year, she dished about her tactics for avoiding
holiday weight gain
, and she gave us a
sneak peek
into some of her upcoming projects, including her latest book!
We're happy to report that her new cookbook is on store shelves and climbing the best-sellers lists.
"Hungry Girl 1-2-3: The Easiest, Most Delicious, Guilt-Free Recipes on the Planet"
is full of great recipes, and Lisa has generously shared two of them:
Shrimped-Up Sweet Corn 'N Tomato Salad
and
Easy Oven-Baked S'Mores-Stuffed Bananas
.
Read More ›
When it comes to better-for-you tasty treats, Hungry Girl is in the know. This best-selling cookbook author has created lighter versions of everything from the BLT to monkey bread. Cocktails, candy, cupcakes, even crab burritos. Stepfanie, the editor of
dailySpark
, chatted with Hungry Girl for the first time this summer (
read the interview!
) and learned plenty of new tips for staying on track and eating what you like. So we were overjoyed to hear that THE Hungry Girl, also known as Lisa Lillien, was available to answer our questions about staying on track during the holidays. In between shooting segments for Rachael Ray's TV show, promoting the Yoplait yogurt that bears the face of her animated alter ego, and a tour for
her latest book
, Lisa took some time to talk to the dailySpark!
Read More ›
Back in 2004, Lisa Lillien was a woman with a dream--she wanted to share her love of better-for-you snack foods with the world. Having lost 30 pounds, she knew how hard it was to navigate the supermarket shelves, searching for treats that would scratch an itch but not blow her calorie budget.

After a frenzied trip to a food lab to test a too-good-to-be-true snack food, Lisa's passion for truth in food labeling and discerning palate merged. Her alter-ego, Hungry Girl, was born, and what started as a small website and e-newsletter sent to fewer than 100 people has become a much larger newsletter with almost 800,000 subscribers, product endorsements and two best-selling cookbooks. Her website is www.hungry-girl.com/.

Lisa, aka Hungry Girl, is honest about what she likes and dislikes, the former list being much longer than the latter: VitaTop muffins, Tofu Shirataki noodles, Fuji apples and broccoli cole slaw are just a few products that pop up repeatedly in her recipes. She's as gaga for popchips as we are, and she will coat just about anything in crushed Fiber One cereal as a way to "faux fry."

Her endorsements are so passionate--and so influential--that her animated likeness now appears on various products, including a new Fiber One 50-calorie yogurt that she raved about during our interview. (Our review will appear soon!) After seeing the commercial featuring Hungry Girl, Lisa said, "I got really excited. I think it's ridiculously cool and I'm thrilled every time I see it."

Before my interview, I asked you what you wanted me to ask Hungry Girl, and you had some great questions! Lisa chatted with me for about 20 minutes last week about topics ranging from her food philosophy and her retro breakfast that morning to how she stays on track while traveling and what she role she thinks her recipes play in a healthy diet.

She was kind, funny and, of course, hungry! (There's really just one food she says she doesn't like on its own: Ironically enough, it's celery--that iconic food that dieters everywhere have munched begrudgingly for decades!)
dailySpark:
What did you have for breakfast today?
Hungry Girl:
Today I had a breakfast that I never normally eat, and as I was eating, I said, 'Wow! It's like my mom in 1975!" I had half a cantaloupe with fat-free cottage cheese iced coffee. Very 1975, my mom. Normally I have egg whites or egg substitute with low-fat cheese.
dailySpark:
How do you stay on track when away from home?
Hungry Girl:
Luckily, when I travel, I don't think about food as much as I'm thinking about other things. So five hours go by and I'll grab an apple just to make sure I'm not ravenous the next time I have a meal. I'm not one of those people that tends to go crazy when I eat out. I think I've trained myself to order well off of menus so I don't freak when I show up and there's room service or I'm at a restaurant.… Plus I'm moving around a lot, carrying bags and staying on my feet, so I'm probably burning extra calories, too.
Read More ›