All Entries For
flexitarianism
If I lived alone, I would probably be a vegetarian. I was a vegetarian for a year or two before I got pregnant with my first child, but started eating meat again because I craved it. Thatís the only time in my life I would say that I "craved" meat. In general, I tend to gravitate to the vegetarian items on a restaurant menu and if Iím making a meal for just myself, it doesnít usually have meat in it. But cooking for one is rare in my house. I have a husband who likes meat, and two children who need at least some of the protein that meat provides. My daughter is great about eating alternate protein sources like beans, but my son wonít touch them. In order to provide a balanced diet to my family, I make meat dishes at least a few times a week. And Iím slightly lazy, which means Iím not going to make one thing for them and something different for myself. So I end up eating meat whether I really want to or not.
Read More ›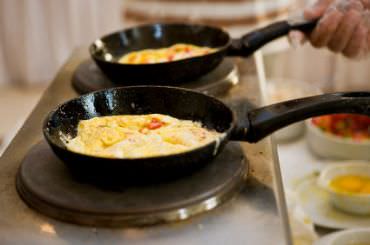 Judging from last week's response, you like the new
Speedy Suppers blog series
we've started.
Our
Skillet Lasagna
was last week's most viewed post.
We're going to continue to bring you Speedy Suppers each Thursday, and
we need your help.
Post your suggestions in the comment section below. Your recipe must be on
SparkRecipes.com
, so if it's not already, upload it soon!
This week's Speedy Supper comes from our very own Coach Nicole, who has been making these mini frittatas for years. The recipe calls for tomatoes, goat cheese and broccoli, but you can use any cheese or vegetables you'd like.
I know she shakes up the recipe from time to time, and I've made it myself a few times. I swapped red peppers for tomatoes, feta for the goat cheese and spinach for the broccoli. You really can't go wrong!
While she usually makes them for breakfast, I thought they'd make a great dinner.
Each frittata has just 71 calories (I usually eat two), and it's great paired with salsa or a green salad and whole-grain toast.
Read More ›
Each Friday during Lent, the dailySpark will feature a different meat-free main dish. Whether you observe Lent or not, we can all benefit from learning about alternate, affordable proteins.
Lentils are a cheap and versatile protein source--I buy lentils for about a dollar a pound in the bulk bins at my local supermarket. On nights when I'm pressed for time, I throw some lentils in a pot, along with a bit of onion and garlic. I add twice as much broth as lentils and let them simmer for about 15 minutes. I steam some broccoli or spinach, heat up some brown rice (I precook rice in batches and freeze it in single portions) and drizzle on a bit of curry or tomato sauce. Dinner's on the table in less than 20 minutes!
Most people limit lentils to lentil soup, but these legumes have a lengthy list of uses.
Mix cooked lentils into meatballs, meatloaf or burgers. Add a cup of lentils and a cup of water when browning ground beef or turkey.


Add pureed lentils to chili, soups or stews to thicken.


Toss cooled French or green lentils with vinaigrette and some chopped peppers and onions for a quick salad. Or add lentils to your favorite pasta salad.


Substitute lentils for half or all the ground beef in your favorite pasta dish. In meat sauce, lasagna or stuffed shells, the texture is the indistinguishable.

A half-cup of lentils have 115 calories, less than half a gram of fat, and 366 mg potassium. They contain 9 g each of protein and fiber (about a third of your recommended amount of fiber), and 45% of your Daily Value of folic acid. Lentils are frequently included on lists of the world's healthiest foods.

Find out more about this healthy, cheap and versatile legume!

Read More ›
Each Friday during Lent, the dailySpark will feature a different non-meat main dish. You'll find plenty of dishes to swap for your meaty favorites, all with far less fat, fewer calories and more nutrients than a fried fish sandwich, a ubiquitous choice during Lent.
Today marks the first Friday of Lent, meaning many Christians are abstaining from eating meat. Through the years, meat-free Fridays have become associated with fish fries and batter-dipped sandwiches at fast-food restaurants. Often battered, fried, and dunked in mayo-based sauces, fish is a versatile and healthy main dish!
Abstaining from meat for several meals a week, usually for health, environmental or personal reasons, is a growing trend. "
Flexitarianism
," as it's called, is a healthy way to eat, according to experts.
If you observe meat-free Fridays during Lent, use this as a time to experiment a bit with your menus. Instead of reaching for the same-old fried fish, choose another lean protein from under the sea.
Read More ›