20-Minute Weeknight Dinners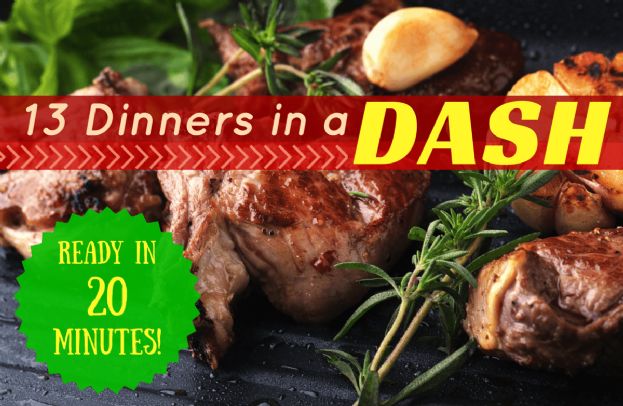 Sometimes we don't have time to spend hours on a fancy dinner. That said, between driving kids to and from school and sports, fitting in a workout and running errands, everyone should still be able to enjoy a delicious, healthy meal come dinnertime. Here are some of our favorite simple, great-tasting meals ready in a flash. Just what you need when there's a lot on your plate.



Chicken and Asparagus Pasta
This simple and delicious pasta dish is sure to become a family favorite.

calories: 207.6 fat: 7 g protein: 14.3 g carbs: 25.4 g



Broiled Tilapia Parmesan
Forget chicken parmesan—this broiled white fish version is just the thing to take your dinner to the next level. Serve with a side of steamed veggies for a balanced meal.

calories: 275.2 fat: 8.5 g protein: 48.5 g carbs: 1.4 g



Chicken-Veggie Stir Fry
This is a great meal for a busy night! Change up the veggies, and you'll have a new meal each time you make this dish.

calories: 156.8 fat: 3.3 g protein: 18.6 g carbs: 12.7 g




Easy Steamed Fish Packets
Cook white fish in a parchment-paper packet to keep the dish moist and tender, with no added fat. Plus, with your veggies and meat all cooked in the parchment, cleaning up is a breeze!

calories: 158.4 fat: 1.5 g protein: 23.4 g carbs: 16.6 g



Simple Mediterranean Vegetable Stew
Caponata is a Mediterranean vegetable stew. Eat it as is, or atop toasted whole-wheat bread or pasta.

calories: 76.1 fat: 1.4 g protein: 2.3 g carbs: 15.9 g



Simple Spicy Garlic Shrimp
With just five ingredients and 10 minutes, you can enjoy a delicious and healthy shrimp meal!

calories: 179.9 fat: 8.2 g protein: 23.2 g carbs: 2 g



15 Minute Rosemary Lamb Chops
Tender lamb might seem time-intensive, but it's actually quite simple to prepare. This 15-minute recipe makes for a no-fuss spring meal that tastes like it took all day to make! Serve with a simple side salad and crusty bread to soak up the juices.

calories: 234.7 fat: 8.5 g protein: 35 g carbs: 2.6 g



Crispy Garlic Kale with Chorizo and Beans
Soy substitutes are so convincingly delicious that no one will know this isn't real chorizo. Bonus: This dish has zero cholesterol!

calories: 254 fat: 8.3 g protein: 14.8 g carbs: 31.9 g



Quinoa and Cheese
We've all heard the many benefits of adding quinoa to any diet. We recommend swapping your old mac and cheese for this recipe that includes the protein-packed grain! For an even heartier meal, add in some shredded rotisserie chicken.

calories: 244.2 fat: 4.8 g protein: 16.7 g carbs: 33.2 g



Cocoa Crusted Pork Tenderloin
This dish inspired by Costa Rican spices seems exotic, but it uses spices and ingredients you already have around the house: coffee, cocoa and cinnamon. You'll wonder why you've been relegating these flavorings to dessert! Serve it up with baked beans and a side salad.

calories: 264 fat: 13.1 g protein: 33 g carbs: 1.2 g



Honey Balsamic Chicken
This sweet and tangy chicken takes less than five minutes to prep, leaving you more time to relax and enjoy dinnertime.

calories: 173.3 fat: 2.6 g protein: 26.3 g carbs: 10.1 g



Greek Turkey Burger
You'll forget all about beef burgers once you try these. Salty and rich feta is mixed with lean ground turkey and Greek herbs for juicy and delicious burgers.

calories: 217.1 fat: 10.2 g protein: 26.3 g carbs: 5.2 g



Beef and Blue Sandwich
Sometimes, all you want for dinner is a simple sandwich. These taste like you brought them home from your neighborhood deli!

calories: 325 fat: 9.8 g protein: 33.5 g carbs: 27.7 g





You will earn

5

SparkPoints

Like what you read? Learn more

about SparkPeople,

or

sign up

for your free account today!
Got a story idea? Give us a shout!