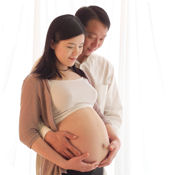 After two years of trying to get pregnant, my husband and I decided to see a fertility specialist. After exhausting tests and numerous doctor consults, we were told our only option for getting pregnant was to use sperm donor. I really wanted to experience what it was like to be pregnant, but I didn't want the fact that the baby only was biologically related to me and not my husband to impact his relationship with our child. After lots of tears and my husband assuring me that he would love this baby no matter what, we decided to do in vitro fertilization with donor sperm. A few months later, we found out I was pregnant with twins!

The realization that our family was going to double in size was exciting but scary at the same time. My pregnancy was going well at first. As long as I kept my stomach full, I felt great. I gained 12 pounds before my first official appointment--I actually had to wear my husband's pants there. At 18 weeks pregnant, I was getting big and I saw a beautiful baby boy and girl, one of each--how lucky could a girl be! I could also feel my babies moving around a lot; the little girl loved when I went swimming and the little boy would dance when he heard music playing. But at 23 weeks my world came to a screeching halt as the doctor came into the exam room. An ultrasound had shown that my cervix had shortened to less than 1 centimeter and what I thought was two active babies moving around were actually preterm labor contractions every three to four minutes.

They took me to the labor and delivery ward, where they started giving me drugs to lessen the contractions and immediately put me on hospital bed rest. They hoped that the bed rest would ease the pressure on my cervix and allow it to get stronger. So we waited. I lay in that hospital bed for four days with an IV and tubes connected to every body part, monitoring oxygen levels, blood circulation, contractions and heart rates (two for the babies and one for me). It was impossible to sleep with all the tubes, the beeping and the constant doctor visits--plus I was unable to eat. I longed for a bite of peanut butter or ice cream, but I knew I had to do what I could to give my kiddos a fighting chance.

My cervix had not improved after several days of bed rest, so we made the decision to have a cerclage put in. This surgical procedure, which puts a stitch in to hold the cervix closed, is typically a very safe and painless procedure, but they like to do it early in the pregnancy for women with incompetent cervixes. Performing this procedure at 24 weeks pregnant with twins, while baby A was extremely low, was much more complicated. We had a 40% chance that the amniotic sac could be punctured during the surgery thus putting me into labor. The chance of the babies surviving if born this early was not very promising. With tears in my eyes, I asked the doctor what he would do if these were his children. We took a deep breath and went in for the surgery.

After the surgery, I laid still with my fingers-crossed for the next few days, hoping that amniotic fluid was not leaking. Within days, we were assured that all went well. The babies were doing great and my fluid levels were fine. I, on the other hand, felt like a battered old car: I had popped blood vessels in my eyes from coughing as the breathing tube came out after the surgery, had a blood-filled nose (from the dry air in the hospital), a sore back and aching limbs after laying still for so long-but we celebrated anyway with a big pizza party.

I spent weeks in the hospital on bed rest, with my babies constantly being monitored. They were getting stronger, and I was getting bigger. The boredom could be mind-numbing and the monotony disheartening. I tried to develop a routine as much as possible (watched the "Today" show and did Sudoku in the morning, showered after lunch, read all afternoon until "Oprah") to get me through the days. Family and friends were wonderful in coming to visit and bringing me yummy goodies, books and games to pass the time. My husband (god bless his heart) slept in the hospital bed next to me almost every single night I was there. He would do my laundry, bake cupcakes for the nurses, bring me home-cooked meals and even sneaked our dog up to the hospital to celebrate when I hit 28 weeks. As the days ticked by, I finished more than 30 novels, missed my own baby shower and saw summer turn into to fall. I had a few meltdowns along the way, and some days I didn't think I could take it anymore, but I stuck it out and overall, my husband said I was quite the trooper.

Around 32 weeks pregnant, I started showing signs of preeclampsia. I gained more than 10 pounds in water weight in just two days, had blurred vision and bad headaches. I was swelling so badly that I needed help getting up to use the bathroom. At 33 weeks and 2 days, they decided to do a cesarean, and my two beautiful children were born three minutes apart. They spent more than three weeks in the neonatal intensive care unit just learning how to breathe and eat on their own. Sitting in that hospital room and then going home empty-handed without my children was the hardest thing that I have ever done in my life. I cried the whole way home--and it was supposed to one of those most memorable happy moments.




Two years later, I couldn't be happier and more grateful for my life. Liam and Riley Ann will be 2 years old in October and they are wonderful. Every day I am in awe of their accomplishments and love watching their faces light up when they do or see things for the first time. My husband has a stronger bond with our children then most parents, as he is fortunate to be a stay-at-home dad. I already see him so clearly in our children, as Liam loves to bake cup cakes for Mama's work friends and Riley has a passion for pleasing others. Life has a unique way of getting us to where we need to be. Those 10 weeks in the hospital were so worth it; I would do it again in a heartbeat if I had to. In fact, maybe we will do it again in the future!

Did you like Erica's story? Join one of these MommyTeams:

Mommy of Twins

Mommies on Bed Rest

Using Fertility Drugs/IUI/IVF?

Do you have a Success Story you'd like us to publish on BabyFit? Send your story, along with a photo of you and your baby, to stepfanie@babyfit.com. Submissions should be 500-1,500 words and will be edited for clarity, grammar and tone.