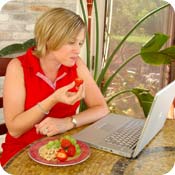 There are roughly 270 days between conception and your introduction to your little bundle of joy. Strap in for the ride and be prepared to flip your life upside-down for this mini guy or girl. Your to-do list is packed: pick up prenatal vitamins, paint the baby's room, delegate a friend to plan the baby shower and pick out a health care provider. Sometimes meal planning is the last thing on your mind.

A little time spent in this department can go a long way. You know you have to eat more, and eat well, but you're definitely not eating for another person. You require only an extra 300 calories a day while your infant is growing (and bump that to 300-500 extra calories if you breastfeed).

The amount of weight you actually need to gain during pregnancy depends on your current weight.

So you've got a grasp on healthy weight gain. Let's talk about the fun part: food! Your 300 calories can really come from anything--candy, soda, french fries, chips. But eating extra amounts of these foods aren't going to help give your growing baby nutrients. Why not use your extra 300 calories each day to amp up the amount and quality of nutrients, vitamins and minerals you get each day to fuel your body and your baby?

When you're choosing your extra 300, look for lean protein, extra fiber, calcium, vitamin C, and healthy fats. Grabbing a few extra grams of these nutrients can help your child develop into the healthiest kid possible from Day One. Throw these quick and easy recipes into your day to get the 300 extra calories your bun in the oven needs.

Peanut Butter Toast, Honey!
Pop two slices of 100% whole wheat bread in your toaster; spread a tablespoon each of natural peanut butter and honey over them. You can enjoy this snack for 297 calories while getting in 8 grams of unsaturated heart-healthy fats your baby needs for proper brain development. (Note: Do not give nuts to children under three or honey to children under age 1, and give age-appropriate bites to avoid choking.)

Breakfast Anytime
Pump up your fiber intake with an extra bowl of cereal and a piece of fruit. Pack in 10 grams of fiber, which helps combat that pesky constipation that's so common during pregnancy, with 3/4 cup Frosted Mini-Wheats, a half-cup of l% milk and a whole medium banana. This 309 calorie combo also gives you a fairly good bit of calcium for bone growth.

Smooth Move
Craving sweets? Cookies and cakes aren't your only options. You can pack in lots of vitamins with a cold smoothie made with yogurt, milk, and fresh fruit. Pop all the ingredients in a blender for this mango-banana concoction for a quick 297-calorie between-meal snack. You can experiment with your own combinations, too. Use the same amount of fruit and it will still keep your mini-meal right around 300 calories. Try berries instead of mango or replace the 1/2 cup milk with calcium-fortified orange juice.

Take a Dip
For a little finger food, try adding a bit of hummus to your day as a dip. Plunge your favorite cut vegetables into the protein-packed fare for a crispy treat. Hummus pairs well with cucumbers, carrots, sliced peppers, celery, broccoli and cauliflower--pretty much any veggie you would normally eat raw. For a bit of variety, you can use warmed whole-wheat pita bread to dunk. Half a cup of hummus spread on one medium pita gives you 337 energizing calories while packing in 10 grams of protein.

It's a Wrap
Need a snack to grab on the run? Whip up some wraps ahead of time when you know a busy schedule is ahead of you. Pop 1/4 cup diced or canned white-meat chicken into a whole-wheat 8-inch tortilla shell and top with red pepper, cucumber, lettuce and snap peas. Use a one-tablespoon dollop of hummus or light mayonnaise and roll up your treat. For just over 300 calories this set up gives you almost 85% of your daily vitamin C needs.

A Chocolate Fix
Need a fix? It happens all the time, and with a proper diet and consistent exercise there's no reason a chocolate lover can't fit a treat into her day, pregnant or not! Two servings of this recipe for 150-Calorie Chocolate Mousse will definitely be a delight to try!

Find the recipe here.

Now with a few tools and new ideas, set out to get the most out of your extra 300 each day (with a few chocolaty treats mixed in every once in awhile!)

What is your favorite 300-calorie treat? Share yours below!