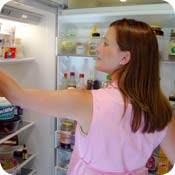 *Please consult with your physician or midwife for a recommended post-pregnancy calorie range. These are only general guidelines; each woman's calorie needs are going to be slightly different and will increase in relation to exercise.


2. ADJUST YOUR NUTRIENTS

Your body's nutrient needs will change along with your calories. Our programs automatically track your post-pregnancy nutrient requirements. You don't have to track all of your nutrients all the time, so if you would like to change, add or omit nutrients, here's how:

From the Start page, click on the Nutrition Tracker. Next to the title "My Nutrition" is a pink button that says Change My Nutrition Goals. Click that button, then either remove nutrients by clicking on the pink "Remove" button or add or adjust nutrients by clicking the purple button "Add Another Nutrient to Track." There are 75 nutrients, vitamins and minerals you can track. (From the main page of the Nutrition Tracker, scroll down to see the nutrients you have selected to track.)
NUTRIENT
Formula Feeding
Nursing
Calcium
1,000 milligrams
1,200 milligrams
Folate
400 micrograms
500 micrograms
Iron
18 milligrams
27 milligrams
Protein
50 grams
70 grams
Zinc
8 milligrams
25 milligrams
Fiber
(gradually increase if consuming less than recommended)
25 grams
28 grams

3. BE SMART ABOUT WEIGHT LOSS

After delivery, you may be concerned about losing any excess pregnancy weight you may have gained. But during the period immediately following birth, you should focus on recovery and providing your body with enough nutrients and calories to care for your new child--not dieting.

After about 6 to 8 weeks postpartum, talk to your doctor to make sure that any weight you do lose happens in a safe, healthy way.

Weight Loss Guidelines (after 6-8 weeks)

Formula Feeding: Losing one pound per week is fine. Moms can eat slightly less than their pre-pregnancy calorie needs to lose weight healthfully. Don't drastically cut calories: Adequate calories and nutrients are required for proper recovery and energy.

Nursing: Losing 1/2 pound per week is OK--as long as you're eating healthy and not restricting calories so much that your milk supply decreases. Weight loss should result from exercise and nursing--not dieting. Be sure to follow the calorie guidelines above. Remember, your body needs plenty of calories for recovery, energy, building strength, and milk production.