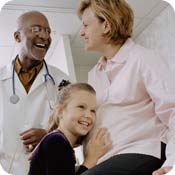 If this is your first baby, you're probably bursting at the seams with questions about your little one. Here is a list of common questions to get you started. Print it up and take it to your child's next checkup.

Feeding Baby
I'm breastfeeding my baby; are there any medications, foods or beverages I should avoid?
Are there any foods that will improve my breast milk?
I'm bottle-feeding my baby; what formula do you recommend?
How often should my baby be nursing/bottle-feeding?
How much should I feed my baby at each sitting?
Soothing Baby
What are some ways to soothe my crying baby?
Should I offer my baby a pacifier?
Should I let my baby sleep in the swing?
Body Care Questions
How should I trim my baby's nails?
How often should I bathe my baby?
What kind of soap/shampoo should I use on my baby?
What should I use to treat diaper rash?
Sleeping Questions
What do you recommend as the best or safest sleeping arrangement?
How should I dress my baby to sleep?
How much sleep does my baby need?
Nutrition Questions
When should I start feeding my baby solid foods?
What foods should I abstain from feeding my child before he is one year old?
What are some common signs of a food allergy?
Should I give my child a daily multivitamin?
Health/Safety Questions
How long should I wait before I let visitors hold my newborn baby?
What if my child gets sick on a weekend?
What is the protocol in the case of a medical emergency?
What are some alternative ways to reduce a fever?
How high is too high for a fever?
When can my baby face forward in the car seat?
General Questions
What is your position on routine circumcision?
What is your policy on antibiotics?
Are there any baby or parenting books you recommend?
My Own Questions
Write down your own questions so that you don't forget to ask.