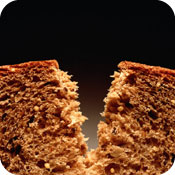 New dietary guidelines established by the U.S. government in 2005 recommend that half of your daily grains servings should be whole grains. That's at least three servings of whole grains per day.

The easiest way to increase the amount of whole grains you consume is to substitute some processed grain products with their whole grain equivalent. This is as simple as having a slice of whole grain toast in the morning instead of using white bread, or using whole wheat flour in pancakes instead of white flour. If you're making homemade soup, toss in a handful of brown rice or barley for added fiber. Make your dessert a healthy one, such as oatmeal cookies, and you won't have to feel guilty—you're eating whole grains!

While at the grocery store, be extra careful reading food labels. Words such as multigrain, stone-ground cracked wheat or seven grain don't necessarily mean the product is made with whole grains. And color doesn't mean a whole grain either—some brown breads are simply white bread with added caramel coloring. The Whole Grain Council created an official packaging symbol in 2005 called the Whole Grain Stamp to help consumers find whole grain products. But until use of the stamp is used widespread, look for the word "whole" near the top of the ingredients list. (For example, the first ingredient of whole grain bread or cracker should be "whole wheat flour".)

Besides switching to whole wheat bread, you can easily add whole wheat pasta and brown rice to the menu to increase your consumption of whole grains. Whole wheat pasta comes in all shapes and sizes and appears to be a darker beige color than regular pasta. You can find it in the pasta section of both natural food and regular grocery stores. If you're not going to eat it right away, you can store an unopened package for six to eight months in a cool, dry cupboard. Whole wheat pasta is prepared the same way as regular pasta (but usually takes a couple extra minutes to cook). To ensure that the pasta isn't mushy, rinse it off under cool water to stop the cooking process. One cup of cooked whole wheat pasta has about 200 calories and 4 grams of fiber.

Brown rice is healthier than white rice and has significantly more nutrients. The refining process that transforms brown rice into polished, white rice strips away most of the vitamins and minerals and completely removes all of the fiber and essential fatty acids—basically leaving only the starch behind. White rice must be "enriched" with vitamins B1, B3 and iron, but at least eleven lost nutrients are not replaced at all. Brown rice is a concentrated source of fiber, which speeds up the removal of cancer-causing substances from our bodies. It is also an excellent source of selenium, which has been shown to reduce the risk of colon cancer. You can find quick-cooking "instant" brown rice, which are parboiled to speed cooking time. Because of this pre-cooked process, they are slightly lower in nutrients than regular, slow-cooking brown rice, which can take up to an hour to cook. However, look for microwavable pouches of brown rice on the shelf and in the freezer section. These are still high in nutrients and cook in minutes!

Continued ›