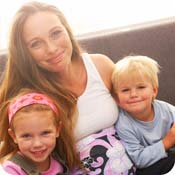 Although breastfeeding is on the rise these days, much of our media still portrays bottle-feeding as the normal way to feed babies. While images of breastfeeding have increased in recent years, movies, television shows, and even children's books and toys portray bottle feeding as the natural choice for feeding babies. If you're a mom with a young child, one way you can counter the effect of these images is to share age-appropriate breastfeeding books and dolls with your child.

Breastfeeding Books for Kids
If you'd like your kids to grow up seeing breastfeeding as a normal and natural choice, then check out these children's books that feature breastfeeding. Many books that feature breastfeeding depict toddlers nursing too. Families with nursing toddlers will enjoy being represented, since they are so often the exception rather than the rule.

In I'm Made of Mama's Milk by Mary Olsen, a board book perfect for babies and toddlers, a baby describes how nursing nurtures her.

Breast Milk makes my Tummy Yummy by Cecilia Moen is filled with colorful illustrations. This book depicts lots of different nursing scenarios. Infants, toddlers, and preschoolers will love it.

We Like to Nurse by Chia Martin shows babies and toddlers that nursing is natural with illustrations of many different kinds of animals nursing their young.

Breastfeeding Dolls for Kids
Breastfeeding dolls come as a set including a soft fabric mama doll and her baby. The mama has breasts with Velcro or snaps for nipples, which connect to Velcro or a snap on the baby's mouth. They are available online, but you can easily make your own. Just get two dolls-one large and one small-and attach Velcro or snaps to the appropriate locations on the dolls.

Breastfeeding dolls make great baby shower gifts for a to-be mama who plans to breastfeed. It's a gift that will surely start conversation!